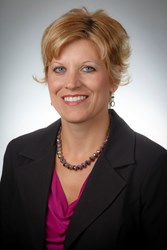 Dayton, Ohio (PRWEB) October 03, 2013
CareSource, one of the nation's largest Medicaid Managed Care Organizations, recently announced that Lori Scaggs has been appointed Vice President of Operations. Scaggs' operational expertise is foundational in CareSource's strategy to offer new products and expand beyond its existing footprint in Ohio and Florida.
In this newly created position, Scaggs will be responsible for directing operations within the Business Partner Group. She will oversee the claims, enrollment, configuration, communication production, and provider data functions at CareSource. Specifically, Scaggs will ensure a focus on operational efficiency and process innovation at CareSource.
Scaggs joins the CareSource team, noted for performance excellence, to develop strategies for improvement in maximizing business goals, and supporting strong partnerships. Her extensive operational experience will assist in developing products that serve and meet member needs.
"Lori brings an exceptional leadership track record to CareSource, and we are fortunate to add her to our already outstanding management team," Sam George, Senior Vice President, Operations and Business Partner Group, said.
Before joining the CareSource executive leadership team, Scaggs most recently served as Senior Director of Product Management and the Technology Alignment Group of Express Scripts, Inc.
About CareSource
CareSource is a non-profit health plan headquartered in Dayton, Ohio. As one of the largest Medicaid managed care plans in the country, CareSource understands the challenges consumers face navigating the health system. We are committed to putting health care within reach for more than 980,000 members we serve in Ohio and Kent.