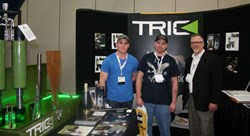 We're excited to show the X30's underground bursting power.
(PRWEB) October 06, 2013
Pipe Bursting Manufacturer, TRIC Tools Inc., is set to participate in its 1st annual International Construction and Utility Equipment Exposition (ICUEE). TRIC's Municipal sales director, Bob Grenier and Michael Lien, Director of Operations traveled to Louisville, KY for the show. The ICUEE is a Live Demonstration Expo held at the Kentucky Expo Center, 937 Phillips Lane, Louisville, KY. The exhibit is held on 1 million square feet both inside and outside the grounds of the Expo center with 800 exhibitors demonstrating their equipment to over 16,500 attendees. The show will run October 1 – 3, 8:30 a.m. – 5:00 p.m., ending at 2:00 p.m. on 10/3.
On Tuesday, October 1st at 10:00 AM, Mr. Lien will present: "Lateral Pipe Bursting Can Save (Or Earn) Big Dollars," in the UCT Seminar Series. TRIC will hold live demonstrations with its X30 pipe bursting equipment in Booth 2060 splitting steel pipe. "We're excited to show the X30's underground bursting power," remarked Bob Grenier.
In addition to its X30 machine, TRIC will be showcasing its Municipal M50 pipe bursting system with it's new utility storage and maintenance case. 2013 has been a year of innovation for TRIC has it has added a number of new products and innovations to its pipe bursting equipment lineup.
For more information about Trenchless Pipe Bursting equipment or the Trenchless Industry in general, please call 888-883-8742 or visit TRIC's website at http://www.trictrenchless.com to see how they can answer any of these questions for you. Get your Trenchless Sewer and Water Replacement service off on the right foot, one lateral at a time.