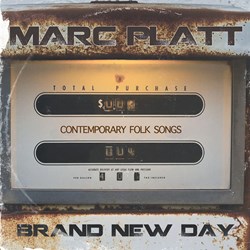 Los Angeles, CA (PRWEB) October 01, 2013
Following hot on the heels of his last two well received albums, "Bitter Sweet" (2011) and "Blue Collar" (2012), long-time Los Angeles-based singer-songwriter Marc Platt continues his exploration of contemporary folk music with his latest, "Brand New Day."
Platt's style of songwriting has been compared to the likes of Cat Stevens, Nick Drake and Bruce Springsteen. Infused with rich harmonies and skillful guitar work, Platt has constructed a collection of songs that range widely in theme yet work as a complete whole, addressing topics from the homeless, to patriotism, and the prison system. This brings the listener to a place of deep emotional resonance by album's end. One fan has commented, "It's music from the heart that hits you right between the eyes."
A mainstay on the music circuit since the 80's - first fronting his power-pop band The Real Impossibles, followed by a string of solo tunes featured on popular TV shows - Platt reaches deeper yet on "A Brand New Day", finding a soulful expression of values in a troubled society.
"In a world of increasing inconsequence and inanity, here comes Marc Platt reminding us why music matters so much. Now more than ever we hunger for the kind of music he makes: songs with melodies as luminous and lingering as his lyrics are incisive and inspirational; songs of grace & outrage, turbulence & redemption." - Paul Zollo: Senior Editor, American Songwriter Magazine
Platt produces most of the material here; however, Matt Kabus - a young singer-songwriter of his own might - joins the fold for two tracks, his most significant contribution on the rousing "Best in America," a song written to aid Boston marathon victims.
"Fortunately, the victims have people like Marc Platt, a Los Angeles performer who was so moved by the fact that Bostonians' first instinct was to run towards the victims and not away from the blast that he wrote a song." - Bennet Kelley: Huffington Post
"Brand New Day" is available October 1, 2013 through Platt Attack Records. For more information, please visit: http://dreamwildgroup.com/ContempFolkSongs/BrandNewDayInfo.htm.