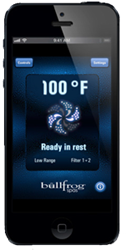 Salt Lake City, UT (PRWEB) October 01, 2013
Bullfrog Spas today unveiled an important hi-tech feature that enables their customers to control and monitor their Bullfrog hot tub from anywhere with access to a wireless internet or a digital cell signal.
Cloud Control™ is a hi-tech wireless control system and app now available with new A and R Series Bullfrog Spas. CloudControl allows you to monitor and control your spa from your yard, your home, or anywhere you have a WiFi or digital cellular signal through a comprehensive hot tub app.
Cloud Control™ includes a WiFi module attached to the spa's control system and a downloadable app for a smartphone, tablet, or other app-enabled device. The Cloud Control™ app is currently available at no charge for use on both iOS® and Android™ devices.
The app allows the spa owner to start the spa, turn on lights, change temperature, and adjust pump and filtration settings from their smartphone or tablet. There is no need to wonder if the spa is heated and ready or if it is functioning properly. It is especially comforting to spa owners who may be away on vacation or at work.

Control and monitor your spa from anywhere
Free app for iOS and Android devices
Contact a local Authorized Bullfrog Spas Dealer for more details.
About Bullfrog Spas
Founded in 1996, Bullfrog International, burst onto the pool and hot tub scene by creating quality portable hot tubs with patented JetPak Technology. JetPaks are modular jetted spa seats that can be interchanged at any time and the engineering behind JetPak Technology eliminates hundreds of feet of pipes and hundreds of pipe fittings, creating a more reliable and efficient plumbing system. JetPaks make Bullfrog Spas completely customizable by allowing the owner to choose their jetted massages and allowing these massages to be interchanged or upgraded at any time. Today, Bullfrog's new JetPak Therapy System is a completely re-engineered hi-tech version of their original JetPak System. Bullfrog International is headquartered in the Salt Lake City, Utah metro area and currently distributes, licenses, and retails its products in the United States, Canada, Australia, New Zealand, Asia, and Europe.
Bullfrog Spas executives are available for interview.
For any questions on Bullfrog Spas and CloudControl visit the Bullfrog Spas website or call 801.565.8111.