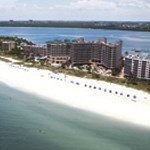 With the installment of a charging station, we are aiding our guests in their efforts to be green.
Fort Myers Beach, Florida (PRWEB) October 01, 2013
A guest request lead to the Pink Shell on Fort Myers Beach to build a charging station for electrical vehicles (EV) and hybrids.
In 2008, the Pink Shell Resort officially became the first resort on the beaches of Fort Myers and Sanibel, Florida to be designated a Green Lodging Property by the Florida Department of Environmental Protection (FDEP). A Florida Green Lodging Property must work to protect and conserve Florida's natural resources and the environment, while educating staff and guest of the importance.
Adding to their already green business, Pink Shell decided to take another step in being environmentally friendly by adding a charging station as an amenity to its resort. "With the installment of a charging station, we are aiding our guests in their efforts to be green," said Ellis Etter, the Director of Sales & Marketing.
Sales of electric cars and hybrids are increasing and rental car companies are adding EVs and hybrids to their fleets, making it important for drivers of these vehicles to have a place to charge their car. Pink Shell is now one of the places that they can.
EVs are better for the environment because they cause less pollution and greenhouse gases while using less energy and resources. With the installment of the charging station, the Pink Shell is facilitating a way for its guests and staff to be environmentally friendly by providing ease for charging their vehicles. The Pink Shell Beach Resort is taking the lead in recognizing their environmental responsibility and what it takes to make an impact.
This station works great for Tesla Model S cars and other EVs/hybrids that need a charge. The charging station is 240 volts AC power. The outlet is fixed to a 4x4 post conveniently located 4' from the breaker panel for ease of use.
Whether guests want to stay overnight, attend a meeting or simply enjoy dining at Pink Shell, they are encouraged to utilize the charging station.
About Pink Shell Beach Resort & Marina
The Pink Shell Beach Resort & Marina, a Boykin Management Company Property, is located on Fort Myers Beach offering 1,500 feet of sugar-white sands, 213 beachfront units, and many recreational activities. For more information visit us online at http://www.PinkShell.com.