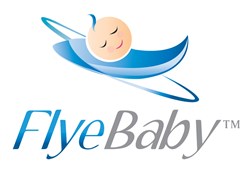 FlyeBaby makes air travel with baby a breeze!
Milford, CT (PRWEB) October 01, 2013
Air travel with a baby just got easier. The FlyeBaby infant airplane travel seat allows parents and their infants to relax during the cruising portion of a flight with free hands for caregivers and face to face interaction to soothe even the most anxious flyer. Parents and their underage traveling companions have even more to celebrate now that FlyeBaby has earned the Parent Tested Parent Approved Winner's Seal of Approval. PTPA Media has North America's largest volunteer parent testing community and was rated the Most Trusted Seal by 22,000 parents.
Consumers looking for high-quality products and services can rest assured when they see the PTPA Winner's Seal; it is evidence of a products excellence from having been evaluated by unbiased parent testers.
FlyeBaby was among many entries from across North America competing to earn the PTPA™ Seal. Independent parent volunteers evaluate products in their own homes to ensure that PTPA winners are chosen based on merit and consumer experience – not on commercial considerations. As a result, the PTPA Media™ Seal has quickly gained recognition as an international leader in certifying consumer products for quality, effectiveness and value. Their CEO and founder, Sharon Vinderine has appeared on nearly 60 morning shows as a reliable source for the latest and greatest in family products. The media and parents alike trust the collective opinion that PTPA Media represents.
Being honored with the influential Seal of Approval from PTPA Media Inc. is a huge achievement for a product geared to families, children or parents. "FlyeBaby makes air travel with baby a breeze," added Howard Greenspan of SCS Direct. "The PTPA award emphasizes what we already knew, parents love FlyeBaby."
FlyeBaby converts any chair to a safe place for baby providing on-the-go convenience for years to come. Find FlyeBaby at http://www.flyebaby.com, facebook.com/flyebaby and for sale nationwide on Amazon.com.
About Us
SCS Direct was founded in 1998 to develop innovative products for consumers in the United States and Internationally. The SCS team focuses on finding little-known products and ideas; continually tweaking and improving them until they are marketable. Current products include various toys, housewares, electronics, outdoor living and infant care items. SCS Direct is ranked #296 on the 2012 Inc. 500 List of America's Fastest Growing Companies. For more information about SCS Direct's unique line of products call 203.870.4867 or visit http://www.scsdirectinc.com.
###