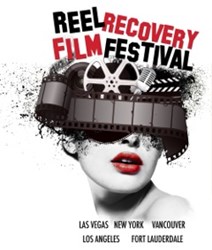 This traveling event is more than just a celebration of recovery and film, it's an expansion of a dialogue between artists, treatment industry professionals, and a public eager to learn more about America's number-one public health crisis
Los Angeles, CA (PRWEB) October 01, 2013
For the fifth year in a row, the REEL Recovery Film Festival is coming to Los Angeles, offering its unique line-up of films that showcase the drama, emotional honesty, and yes, even the humor found in stories of addiction and recovery. Presented by Writers In Treatment (W.I.T.), one of Hollywood's leading recovery nonprofits and the creator of the REEL Recovery Film Festival and Symposium. It runs October 18-24 at the Laemmle's Monica 4-Plex, 1332 2nd Street, Santa Monica, CA 90401.
"Last year, we played to such appreciative crowds in Los Angeles, and I look forward to seeing the same great audiences this year," says Leonard Buschel, Executive Director of the Festival. "In the past few decades, there have been numerous films exploring addiction and recovery, from comedies to thrillers, dramas to documentaries—a creative outburst that proves the stories of addiction are as diverse as humans themselves. By showcasing the best of this work, the REEL Recovery Film Festival provides a rare, nuanced, and honest portrait of a burgeoning global epidemic."
Buschel adds that the festival features an opportunity for moviegoers to question filmmakers and well-known clinicians after most screenings: "This traveling event is more than just a celebration of recovery and film, it's an expansion of a dialogue between artists, treatment industry professionals, and a public eager to learn more about America's number-one public health crisis."
This year's Festival features a screening of Paul Williams Still Alive, a charming, poignant and very funny documentary about a truly gift artist for whom the end of fame was not the end of him, thanks to his 12-step lifestyle. Paul Williams himself will make a special guest appearance at the screening to answer questions following the film. (Monday, October 21 at 7:00pm). ALSO, Ritch Shydner's Comedy Explosion on Wednesday, Oct. 23.
Other highlights include:

Opening Night Party and 3rd Annual Recovery Media Award presented to InRecovery Magazinein collaboration with the National Youth Foundation and Str-8-Edge. 8-pm –1am- Santa Monica Bay Woman's Club, 1210 Fourth Street, Santa Monica, CA 90401
a showing of Flight followed by a talk by real-life pilot and recovering addict Larry Smith.
a screening of the documentary Perseverance, about Dr. Billy Taylor, one of Michigan's greatest running backs, featuring a special guest appearance by Dr. Taylor and director Dan Chace (Wednesday, October 23 at 4:00pm)
IN PERSON: Frank Ferrante and the funniest movie about personal transformation ever, May I Be Frank (Thursday, October 24 at 5:00pm).
The exciting line-up of films in the Festival also encompasses features, shorts, and TV programs, including an episode from It's Always Sunny in Philadelphia courtesy of FX Networks entitled "Charlie Rules the World," about video game addiction (Monday, October 21 at 1:00pm)
Tickets are available for just $5 per film. For more information and to purchase tickets, call 818.762.0461 or visit reelrecoveryfilmfestival.org.
About the REEL Recovery Film Festival
The REEL Recovery Film Festival is a multi-day event celebrating film, the arts, writing, and creativity. In 2013 and 2014, the Festival is running in Los Angeles, New York, Las Vegas, San Francisco, Sacramento, Vancouver, BC, Delray Beach, FL, and Denton, TX, showcasing filmmakers who make honest films about addiction, alcoholism, behavioral disorders, treatment and recovery. The Festival's eclectic line-up encompasses contemporary and classic films, documentaries and shorts from American and international first-time filmmakers and industry veterans. Full schedule available at http://www.reelrecoveryfilmfestival.org