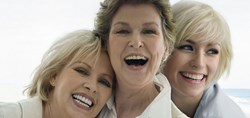 According to the National Cancer Institute, about 1 in 8 women in the US will develop invasive breast cancer during their lifetime. This makes breast cancer the second most common cancer among American women.
Atlanta, GA (PRWEB) October 01, 2013
Dr. Taz's Atlanta Center for Holistic and Integrative Medicine is pleased to announce enhanced cancer care programs for its patients. The Center has established partnerships with multiple cancer treatment facilities around the world to assist patients in this difficult journey. The goal of the Atlanta Center for Holistic and Integrative Medicine's Cancer Support Program is to help minimize side effects of therapy, provide support, understand alternative and adjunctive regimens and help patients create a comprehensive care plan to minimize risks of recurrence.
Partners include Cancer Treatment Centers of America and The Collmed Foundation dedicated to cancer research.
Dr. Taz MD, is a board certified physician, pediatric ER trained specialist, certified nutritionist, prevention/wellness expert and articulate Founder and Medical Director of the nationally recognized Atlanta Center for Holistic and Integrative Medicine.
Dr. Taz MD has the proven expertise, experience and unique sensibility to thoughtfully address all matters dealing with women's and children's health issues and treatments, drawing from both Traditional and Eastern medicine. "As the mother of two young children, I believe the synergy between women and children's health and its ultimate impact on the health of the family is at the core of my Center's mission."