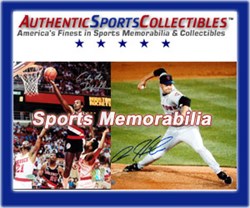 ...100% authentic autographed memorabilia... a virtual online museum..with over 30,000 items to choose
New York, NY (PRWEB) October 01, 2013
AuthenticSportsCollectibles.com is an authorized dealer of authentic autographed sports memorabilia of the past and current superstars of baseball, football, basketball, hockey,boxing, soccer and much more!
AuthenticSportsCollectibles.com's autographed collectibles include autographed footballs, jerseys, photos, autographed baseballs, helmets, basketballs, boxing gloves, autographed hockey pucks and even autographed celebrity memorabilia .This site is virtually an online museum of baseball memorabilia, football memorabilia, hockey memorabilia and more with over 30,000 items!
AuthenticSportsCollectibles.com is adding new sports memorabilia each day growing its already large selection of 100% authentic autographed memorabilia.If you do not see what they have on their site, they offer a free search service that will find the item for you! Online gift certificates are available for any occassion.
For additional information, visit http://www.AuthenticSportsCollectibles.com or email us at info(at)AuthenticSportsCollectibles(dot)com
All signed memorabilia comes with a Certificate of Authenticity with Hologram and are limited in quantity.