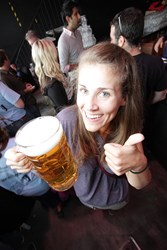 Fremont Oktoberfest Round 2 loses the mini-mugs and 100 microbrews. Instead, focusing on liter buxom beers and NO chance of rain with the celebration indoors. - Creative Director, Phil Megenhardt
Seattle, WA (PRWEB) October 01, 2013
Fremont transforms back into the "Center of the Brewniverse" for a bonus round of Fremont Oktoberfest on this Saturday, October 5th, from 11am to midnight indoors at Fremont Studios. Featuring seasonal brews and Fremont twists on German tradition, Fremont Oktoberfest is buying a second round for the Fremont Chamber of Commerce.
"Fremont Oktoberfest Round 2 loses the mini-mugs and 100 microbrews," says Creative Director, Phil Megenhardt, "Instead, focusing on liter buxom beers and NO chance of rain with the celebration indoors."
Three sizes of commemorative Fremont Oktoberfest glassware, half-liter steins, full-liter steins, and full-liter boots will be the vessels for German and seasonal beers.
Once settled with steins, guests can sip, sit, and sway while enjoying Fremont twists on traditional Oktoberfest festivities. Traditional German oom-pah (and boom-pah) music will set the mood and Stein holding competitions will be held periodically throughout the day, testing the grit of even the most seasoned beer drinker.
Even tailgating takes on a unique twist at Fremont Oktoberfest. Guests can take turns cheering on two of Seattle's most successful teams. The 1st place Seattle Sounders take on league rival, the Colorado Rapids at 7:00 pm and the 15th ranked Washington Huskies take on the 5th ranked Stanford Cardinals at 7:30 pm.
Fremont Oktoberfest Round 2 is $10 at the door. Beer prices vary by size. Half-liter steins cost $10, full-liter steins and boots cost $20, and 16oz beers cost $5. More information is available at fremontoktoberfest.com.
Fremont Oktoberfest Round 2 is produced by Bold Hat Productions, and is a benefit for the Fremont Chamber of Commerce, funding local schools, art groups, community events, and promoting Fremont as the "Center of the Universe." More information can be found at FremontSeattle.com.
-###-