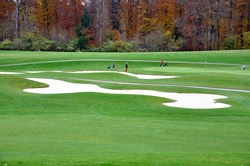 But now is the time to cling to the long days of summer and the game you love.
Grandville, MI (PRWEB) October 01, 2013
Summer has officially come and gone. The darkness of night lingers in the early morning, a jacket is required as you head out the door, and trees are ablaze with the fiery yellow, orange, and reds that signal the colder days to come. The snow-birds are beginning to migrate to their winter retreats in the south while those stranded in winter's path are tempted to carefully tuck their clubs into the bleak corner of the garage. But now is the time to cling to the long days of summer and the game you love. Here are the top 5 tips for enjoying fall golf.
1.) Less Play – Most leagues have finished, kids are back in school, and many are simply waiting for spring. Courses have fewer rounds being played so you can avoid that annoying foursome that refuses to let you play through. If you're part of that foursome, you can finish your round faster, too.
2.) Fall Rates – Less play means courses need to lure you out for their last chance at revenue before the snow begins. Fall rates give you access to excellent golf at the lowest prices available. Cart and greens fees at renowned Arcadia Bluffs in Arcadia, MI reach $180 during the peak season, but drop to $100 for the first two weeks of October and $75 from mid-October through mid-November. Deeper discounts can be found at your local course or through special offer sites like GroupGolfer.com.
3.) Temperature – Mornings are cool and crisp. Gone are the days of sweating through your shirt before your clubs are loaded onto the cart. Average highs in West Michigan hover around 62F during the month of October, so your round can be enjoyed in complete comfort.
4.) Scenery – Fall brings with it the beauty of changing seasons. Golf courses are primed to experience breathtaking views and landscapes as colors change from green to the earthy shades of autumn.
5.) Equipment Price Drops – Not only can you save money on the course, equipment dealers like Maple Hill Golf (http://www.maplehillgc.com) offer season-low discounts on inline and closeout equipment. Stores want to move leftover inventory and manufacturers' wholesale prices drop in preparation for the next round of new product. For example, the TaylorMade R1 Driver began the 2013 season at a retail price of $399.99, but TaylorMade is offering a $50 Instant Rebate in addition to an already discounted price through November 3. Maple Hill Golf's price is too low to show, but you can view it here. If you've been putting off a purchase until the prices drop, now is the time to shop.
For more information on Maple Hill Golf and equipment deals, please visit http://www.maplehillgc.com.