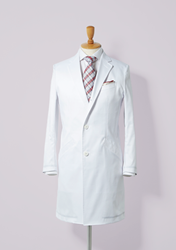 Not all doctors are cut from the same cloth. Neither are their coats.
Sunnyvale, California (PRWEB) October 01, 2013
Classico, a Japanese company specializing in tailored doctor's coats, kicked off a major effort to expand its US presence with the launch of a redesigned web site (http://www.classicolabcoat.com).
"For many doctors, the coat is more than a uniform — it's part of what establishes their presence as a doctor," said Xiruo Guo, Marketing Director of Classico US.
"Our designs help them look and feel more comfortable, confident and distinguished. That's one of the strengths of tailored clothing."
According to Guo, Classico began with a conversation between a Tokyo doctor and Arata Ohwa, an Internet entrepreneur.
The doctor loved custom suits, and hated his choices in lab coats, which are often sold through uniform supply stores. The two men approached a master tailor, and challenged him to design a more stylish lab coat.
The result, the Classico Tailored Lab Coat, won First Prize in the Industrial and Life Science Design Category of the International Design Awards (IDA) in 2009.
Since the first coat, the Classico offering has expanded to include four different designs for men, three for women, and scrubs.
Classico coats have all the hallmarks of tailored clothing. They're made to order, from high-end fabrics chosen for their brilliant whiteness. The silhouette is slim and fitted, and the coats feature bespoke details like lined pockets and functional cuff buttons.
"We're trying to address a paradox: doctors can be very discerning about design in other areas of life, including their cars, homes, and clothes they wear outside of work," says Guo.
"We want to give them a choice that lets them enjoy great design at work, too."