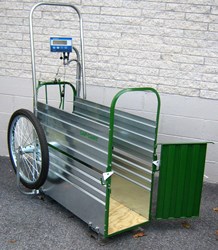 Myerstown, PA (PRWEB) October 01, 2013
Farmer Boy Ag announces the addition of the Caf-Cart with weighing scale, guaranteed to get an accurate weight for your calves.
Many dairy farmers are familiar with the original Caf-Cart, which is geared specifically for moving and carting calves. Raytec Manufacturing has taken this reliable, tried and true cart to a new level. Now, innovative engineering allows calf-raisers to accurately weigh calves using a newly designed Caf-Cart.
This new design combines the durability and reliability of the original Caf-Cart with the industry proven Digi-Star electronics for precise, accurate weight readings. Just as with the swine scales offered by Raytec Manufacturing, the new Caf-Cart with scale allows the calves to lean and move without affecting the scale's accuracy.
The cage is 42 inches to accommodate larger calves or other similar size livestock. The Caf-Cart's capacity is 300 pounds. The SW300 scales are factory preset to expect weight readings from the SW3300 Load Cells at maximum 4,000 pounds, allowing the scale's the ability to surpass the maximum weight capacity of the cart. The cart is sold with either standard pneumatic tires or optional solid tires and is available with or without the optional headlock.
Farmer Boy AG, Inc. has been at the forefront of the livestock and poultry industry, constructing facilities for these industries as well as providing a complete line of parts and supplies to keep those facilities running for years to come. Regardless of market conditions, Farmer Boy Ag strives to give customers "The Best Value in Ag Supplies!" For more information on the weighing Caf-Cart or other products by Raytec Manufacturing, contact the Farmer Boy AG Sales Department at (800) 845-3374.