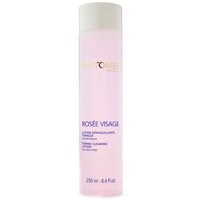 Phytomer Rosee Visage Toning Cleansing Lotion will cleanse your face without leaving an oily film behind. The phytomer rosee visage will improve your skin tone, an important
Anaheim, CA (PRWEB) February 13, 2014
DrSkinSpa.com provides top quality, natural anti aging skin care products via their e-commerce web site. This skin care business site delivers beauty solutions formulated from naturally derived substances that have been scientifically reviewed and proven to work for a diversity of skin care needs. They carry a huge inventory of consumer skin care favorites. The latest addition totheir family of product offerings is the Phytomer Rosee Visage Toning Cleansing Lotion.
Phytomer Rosee Visage Toning Cleansing Lotion is a toner and face cleansing lotion that is made with rosewater. This face cleansing lotion tones the skin and, in turn, improves skin's texture for a more glowing and youthful complexion.
Phytomer Rosee Visage is a gentle toner that can be used on a daily basis to cleanse and refresh the skin. It will remove all traces of makeup and dirt, soothing enough even for the removal of eye makeup. Phytomer Rosee Visage Toning Cleansing Lotion will cleanse, calm, and smooth the skin as it adds minerals for age-defying beauty.
Phytomer Rosee Visage Toning Cleansing Lotion is an appropriate cleanser for those with rosacea, though this product is useful for all skin types. It contains rose centifolia flower water. This rose water helps the skin retain moisture as it also works as a gentle astringent to even out skin tone and soothe skin. This phytomer rosee visage formula is also infused with a sea salt tonic, maris sal, which has minerals obtained from the Dead Sea. This ingredient alone in phytomer rosee visage contains 26 essential minerals, nearly half of which cannot be found anywhere else in the world. These essential elements contained within Phytomer Rosee Visage Toning Cleansing Lotion nourish the skin, get the blood beneath the skin circulating for a rosy glow, and have distinct healing powers. Another sea salt, sel marin, is included, too. This sea salt in phytomer rosee visage derives from the French seas. The marine salts maintain the skin's moisture balance and pH levels.
Mehgan, the esthetician at DrSkinSpa.com, says, "Phytomer Rosee Visage Toning Cleansing Lotion will cleanse your face without leaving an oily film behind. The phytomer rosee visage will improve your skin tone, an important plus if you suffer from rosacea or a blotchy complexion."
DrSkinSpa.com attracts customer from around the world. Thisglobal e-retailing site is highly regarded for providing the most desirable skin care formulations that consumers seek. Their products have earned positive scientificallyproven results. DrSkinSpa.com's skin care offerings come with a 14-day, money-back guarantee in addition to a 120% price protection guarantee, free shipping, and complimentary consultations with their on-site Esthetician. DrSkinSpa.com is owned by Crescent Health Center and is based in Anaheim, California.