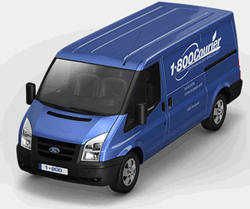 (PRWEB) October 02, 2013
1-800 Courier, a recognized leader in same-day delivery, messenger and transportation services, announces fleet replacement programs. The announcement comes in an effort to inform customers of its value-added services to companies, expand its current customer base, and increase sales growth. 1-800 Courier strives to be the best choice for same-day delivery solutions throughout the US.
1-800 Courier fleet replacement program is available to a variety of companies to assist in optimizing their delivery system. The program provides to companies fully insured drivers branded in their company's uniforms. 1-800 Courier also offers driving vehicles branded with the company's very own logo. It allows companies a viable and dependable source for their own fleet nationwide.
The fleet replacement program alleviates companies from having to manage and supervise their own fleet. The type of program can consist of a local or long-distance same-day delivery service. Companies will overall cut costs and increase operational efficiencies by partnering with 1-800 Courier for their daily deliveries, opposed to utilizing their own employee drivers and vehicles.
1-800 Courier is a Same-Day Courier with a national footprint and capable of creating same-day delivery solutions for any business. Tracking technology is provided to every client by 1-800 Courier, which gives real-time shipment pick-up and delivery status. For any questions regarding a fleet replacement program to meet your specific delivery needs, the 1-800 Courier sales staff is able to discuss pricing and develop an optimal replacement fleet solution.
1-800 Courier is a premier same-day courier offering transportation and distribution services. From small packages to palletized freight, 1-800 Courier delivers fast. As a leader in the courier industry, their goal is to perform optimal courier logistic solutions and superior customer service every time. This Phoenix Courier provides same-day delivery successfully for over 1,500 clients, including Fortune 500 companies nationwide.