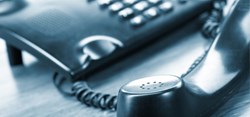 Now we can focus more on client care and proficiency within the department
Colorado Springs, Colo (PRWEB) October 03, 2013
The Independence Center's Home Health department has effectively gone paperless in their in-home care charting system. The agency has transitioned with Telephony, a technology associated with the electronic transmission of information using the telephone.
"Our goal here was to go paperless," Katey Castilla, Home Health Administrator. "We do approximately 12,000 visits a month, so each visit has to be charted on a piece of paper. We are talking about thousands of pieces of paper processed manually by five to six people."
This evolution into a more green office is two years in the making, and has increased the efficiency of the department significantly. The Home Health department has been restructured with this change in hopes to create more productivity in other areas besides paperwork. According to Castilla, the system has been streamlined and restructured.
"One person can process payroll in approximately 24 hour's worth of time, and before it took five to six people five days to process payroll, " said Castilla. "Because of this electronic records and system it has streamlined everything we do."
With over 230 clients that require processing, the Telephony system has given the department an opportunity to direct their energy on clients more.
"Now we can focus more on client care and proficiency within the department," Castilla said.
For more information about The Independence Center visit http://www.theindependencecenter.org.
About the Independence Center:
The IC was founded to assist people with disabilities to make changes in their lives that lead to independence in our community. We empower people with disabilities to live independently in the community through services such as home health, peer support, benefits counseling and access to assistive technology. We are a vigorous participant in local efforts to remove barriers for people with disabilities because we believe that people with disabilities should have the same civil rights, options and control over choices in their lives as people without disabilities. We provide skills training to empower people with disabilities to be well informed advocates and active citizens; to change laws, legislation, systems and attitudes that affect their independence.