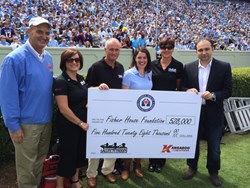 We are grateful for the support of Kangaroo Express and the people who made this donation possible, allowing us to continue our mission of providing a home where military families can stay while a loved one receives medical care.
Rockville, MD (PRWEB) October 07, 2013
Fisher House Foundation has received $528,000 from the third annual summer-long Kangaroo Express "Salute Our Troops" fundraising campaign, it was announced recently at the UNC Military Appreciation football game.
From Independence Day through Labor Day, June 26 through Sept. 3, Kangaroo Express invited store guests to make donations to the campaign and encouraged communities to share special messages of gratitude to the military. Through more than 1,550 Kangaroo Express stores across 13 states, customers and communities enthusiastically demonstrated united support for military personnel and their families. Kangaroo Express, the leading independently operated convenience store chain in the southeastern United States, is operated by The Pantry, Inc.
"We are grateful for the support of Kangaroo Express and the people who made this donation possible," said David Coker, President of Fisher House Foundation. "This will allow us to continue our mission of providing a home where military families can stay while a loved one receives medical care, which is a critical part of the healing process."
"Kangaroo Express guests, associates and partners have once again united to show their appreciation for the sacrifices made by our troops and their families. The tremendous spirit and passionate gratitude demonstrated during this summer's Salute Our Troops campaign rallied support and pride in the communities we serve," said Joe Venezia, senior vice president of operations, Kangaroo Express. "This significant donation builds on our ongoing commitment to our nation's troops and their families. With more than half of our stores near military installations and one-third of our associates directly connected to our troops, it's a commitment to our family."
More than 150 Salute Our Troops celebrations were held at Kangaroo Express stores and community events throughout the southeastern U.S. led by Silver Star recipient SSG Tommy Rieman and retired U.S. Army soldier and drag racer Don O'Neal, with his custom 2009 Mullis Salute Our Troops Dragster. The events included Family Fun Nights, inviting military families out for a free night of entertainment, food and fun. Banners signed with messages of thanks and appreciation by store guests throughout the tour are being shared with troops and their families at USO centers throughout the Southeast and overseas.
Salute Our Troops presenting sponsor, PepsiCo, one of the world's largest food and beverage companies with iconic brands such as Pepsi-Cola, Quaker, Tropicana, Gatorade and Frito-Lay, was the leading corporate contributor to Kangaroo Express' fundraising goal for the third consecutive year.
About Fisher House
Fisher House Foundation is best known for a network of comfort homes where families can stay at no cost while a loved one is receiving treatment. These homes are located at major military and VA medical centers nationwide, close to the medical center or hospital it serves. Fisher Houses have up to 21 suites, with private bedrooms and baths. Families share a common kitchen, laundry facilities, a warm dining room and an inviting living room. Fisher House Foundation ensures that there is never a fee. Since inception, the program has saved military and veteran families an estimated $200 million in out of pocket costs for lodging and transportation.
Fisher House Foundation also operates the Hero Miles Program, using donated frequent flyer miles to bring family members to the bedside of injured service members as well as the Hotels for Heroes program using donated hotel points to allow family members to stay at hotels near medical centers without charge. The Foundation also manages a grant program that supports other military charities and scholarship funds for military children, spouses and children of fallen and disabled veterans.
Photo caption: At the game (l. to r.): Derek Donovan, Vice President, Programs, Fisher House Foundation; Jessica Satterlee, Marketing and Promotions, The Pantry, Inc.; Randy Byers, Regional Sales Director, Kangaroo Express; Mary Brigid Considine, Vice President, Donor Relations, Fisher House Foundation; Nancy Clemons, , Director, Marketing Services, The Pantry, Inc.; Boris Zelmanovich, Senior Vice President, Chief Merchandising Officer, The Pantry, Inc.