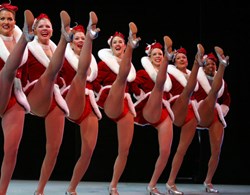 Denver, Colorado (PRWEB) October 02, 2013
Some things just seem to get better with age. The riveting and ravishing Rockettes, for example, have been rocking for 86 years. And, based on ongoing ticket sales, they haven't lost their kick.
The production was first presented in 1933. Today, the show has become a New York Holiday tradition seen by more than a million visitors each year. Now, spurred by popular demand, two separate traveling productions have been created to make the Rockettes a tradition that can be enjoyed in other cities as well.
One cast will be performing at the Cobb Performing Arts Center in Atlanta, Georgia from November 7 – 23; the Kravis Center – Dreyfoos Concert Hall in West Palm Beach, Florida November 29 – December 8, and the Carol Morsani Hall – The Straz Center in Tampa, Florida December 12 – 29, 2013.
Another production is scheduled for an extended run at the Grand Ole Opry House in Nashville, Tennessee from November 16 through December 24, 2013. At the same time, of course, the original will perform at Radio City Musical Hall from November 8 through December 24, 2013, with further dates to be released.
"The Radio City Christmas Spectacular is very popular, especially now the new touring casts and appearances around the country," said Felina Martinez at online ticket marketplace BuyAnySeat.com
"Although most performances typically sell out, we're proud to offer fans the most comprehensive and continuously refreshed selection of tickets, with a worry-free guarantee to protect their purchase," said Martinez.
"In fact, we have a great inventory of Radio City Christmas Spectacular tickets now available on our site," said Martinez. "Customers can go to BuyAnySeat.com and search for the Radio City Christmas Spectacular – then select their tickets," said Martinez.
Last year's production, entitled The Rockettes Celebration, commemorated both the 85th anniversary of the Rockettes and the 80th anniversary of the show itself. Presented in the vast 5,900-seat Radio City Music Hall in New York City, the show's star performers are the 36 women of the precision dance troupe known as the Rockettes.
The annual musical stage show features over 140 performers, lavish sets and costumes, and an original musical score. And, each year, the traditional 90-minute revue combines singing, dancing and humor with traditional scenes in spectacular stage settings.
The first Christmas show was produced December 21, 1933, and included the movies Flying Down to Rio and Walt Disney's The Night Before Christmas. The show, which ran for two weeks, was created by the Music Hall's stage producer Leon Leonidoff and designer Vincente Minnelli.
Part of the program included the "Parade of the Wooden Soldiers" choreographed by their founder, Russell Markert, and "The Living Nativity" – two scenes which have endured up to the present day.
In 2007, to celebrate the 75th anniversary of the Christmas show, an entirely new edition of the spectacular was updated, designed and choreographed under the direction of Linda Haberman.
Each year, 80 Rockettes are chosen for the Radio City production out of about 500 who try out. This is because the show needs 36 ladies and four standbys who alternate playing the punishing schedule of five shows a day, six days a week.
The dancers come from a variety of backgrounds, but they all must stand between 5-foot-5 and 5-foot-10 1/2 to create what choreographer Haberman calls a "pleasing effect". This same selection process has been extended into the two traveling casts as well.
Over the years, Haberman has helped hone the increasing strength and physicality of the Rockettes. "These women train like crazy, they are all so strong and so tough and such good dancers – it's great," Haberman says. Apparently, the million plus fans who attend each year agree.
To shop for Radio City Christmas Spectacular tickets, visit BuyAnySeat.com.
About BuyAnySeat.com: An online ticket marketplace, BuyAnySeat.com connects sports, theater and other live entertainment fans to an extensive worldwide network of ticket sellers. The site's simplified listings and navigational tools enable fans to easily locate, compare and purchase inexpensive, discounted or lower-priced tickets to virtually all advertised sports and entertainment events around the globe.
The marketplace, which is PCI-compliant and Norton Secured, also provides customers with a complete Worry-Free Guarantee on all ticket purchases. Based in Denver, Colorado, BuyAnySeat.com is a subsidiary of Denver Media Holdings. For more information, please visit http://buyanyseat.com.