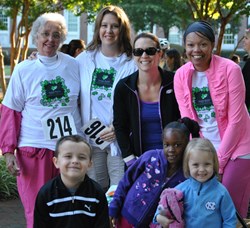 Greensboro, NC (PRWEB) October 02, 2013
The Autism Society of North Carolina raised more than $40,000 on Saturday, Sept. 28, as more than 400 people participated in the 5th annual Greensboro Run/Walk for Autism on the UNC-Greensboro campus.
Proceeds from the event will support individuals on the autism spectrum and their families throughout the Triad community. All money raised by the Autism Society of North Carolina stays in North Carolina, providing support and promoting opportunities for the over 60,000 people in our state affected by Autism Spectrum Disorder.
The Greensboro Run/Walk for Autism continued to exceed fundraising totals from 2012 as more than 43 teams participated. In addition to the traditional competitive and noncompetitive 5K events, this year marked the first 1K Family Fun Walk, which made it possible for more families to be a part of the celebration.
Background:

Autism Spectrum Disorder (ASD) is a lifelong developmental disability that typically appears during the first three years of life. Recent studies estimate that up to 1 of every 70 children born in North Carolina will be affected by ASD.
For over forty years, the Autism Society of North Carolina has worked to address areas of need and expand services for the autism community in North Carolina. ASNC works to directly improve the lives of individuals affected by autism by providing advocacy, education, and services.
Additional information is available by calling 1-800-442-2762 or by visiting http://www.autismsociety-nc.org.