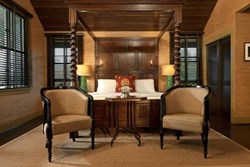 The suite offers many amenities including its own private chef and kitchen, private yoga and massage treatments.
Paia, HI (PRWEB) October 02, 2013
Lumeria Maui, the new wellness, adventure and educational travel retreat, opened in 2012 and quickly became a recognized Hawaiian destination for yoga, healing, personal transformation and authentic cultural experiences. Xorin Balbes, founder and designer, is pleased to announce three new additions; an outdoor saltwater pool and spa, a yoga/meeting pavilion and Maui's newest suite, the Ali'i suite, an 1,100 square foot luxurious sanctuary overlooking ocean and island views and designed with an international array of furnishings and accessories fit for a king. Additionally, the suite offers many amenities including its own private chef and kitchen, private yoga and massage treatments. The suite will compete for Maui's best accommodation that incorporates a conscious spiritual connection to the spirit of Aloha.
The original structure, built in 1909, was a historic plantation estate and was masterfully renovated utilizing sustainable building materials to preserve the natural flow and energy of Maui's sacred land. Lumeria Maui's highly anticipated outdoor pool area now offers guests a quiet, secluded saltwater refuge surrounded by lush tropical landscaping. The yoga pavilion is strategically placed by the Whispering Pine forest overlooking the gulch with ocean views. Arched copper ceilings create a temple like feel inside the large open space accommodating 60 people for yoga classes or 100 people in classroom style seating. The singular Ali'i royal suite is the property's gem with its spacious, open floor plan totaling 1,100 square feet of space. The Ali'i suite features a full service kitchen and expansive private lanai for outdoor dining and lounging. Lumeria Maui is celebrating the additions with two new exciting signature packages; The Lumeria Ali'i Royal Escape and Lumeria's Yoga, Vines and Farm to Table Tour.
New Travel Packages
1. The Lumeria Ali'i Royal Escape:
Experience Hawaii's ultimate unplugged holiday with wellness, adventure, romance and a gorgeous private suite. Featuring commanding mountain and sea views, the Ali'i loft-like suite takes center stage with its own kitchen, private chef and outdoor living space. For a three-night minimum stay guests will enjoy:

A private chef cooking in-suite, breakfasts daily and one candlelit dinner served on the lanai
Daily in-room lomi lomi massage for two
Private yoga instruction daily
Three and five night packages start at $4,500.00 for two inclusive of above with options for private adventure and off property cultural and adventure experiences on land or at sea on Maui's world renowned North Shore.
2. Yoga, Vines and Farm to Table:
This is a retreat designed for those who enjoy the very best in life! Start your morning with a sunrise mediation and yoga class. Take a tour of Maui's commercial winery boasting a varied selection of wines including sparkling, pineapple, grape and their coveted raspberry dessert wine. Participate in an interactive farm tour and harvest your own lunch at O'o Farms. Head up to the Surf and Goat Dairy Farm to assist in feeding and milking of the goats! Lastly, take a tour of Maui's own state-of-the-art Ocean Vodka Organic Farm and Distillery.
Daily group Yoga
Daily group meditation
Wine tasting and tour of Tedeshi Winery
Tour and tasting at Ocean Vodka Organic Farm & Distillery
Experiential visit to Surfing Goat Dairy Farm
O'o Biodynamic Farm experience including lunch
Optional wellbeing services
Optional farm to table meals at Lumeria Maui
Three and five night packages in a deluxe ocean view room from $1,122 single and $1,197 for two
Fast Facts
POOL DETAILS

Located on the lower west side of the property overlooking the West Maui Mountains
Dimensions are 20 ft. x 42 ft. with a maximum depth of 6.5 ft.
Saltwater system
Constructed of French gray plaster with black-blue and copper glass tiles
Umbrellas and 16 chaise lounges with complimentary towel service
In-pool Jacuzzi with seating for eight
YOGA PAVILLION DETAILS

Located behind the front reception building with panoramic views
Features pre-engineered wood floor
60 people for yoga classes, 100 people seated
Steel ceiling painted with a copper metallic
Bose music system with PA compatibility
Yoga props available for class use
ALI'I ROYAL SUITE DETAILS

1,100 sq. ft., open floor plan; with terrace - dimensions are 8ft. x 20ft. with two Indonesian daybeds and an antique Swedish dining table
Bed is an English antique from the late 1800's with a venetian armoire and English recliner chair from the same period
Bathroom features two Japanese Tansu vanities and a steam shower
Warm interior color palate, with Douglas fir floors covered by sisal rugs
Lighting fixtures include antique brass chandeliers from Morocco
Fully stocked kitchen with fine crystal and china
Bose sound system
Private chef and in-room private yoga and meditation are available
About Lumeria Maui
Lumeria Maui is Hawaii's first wellness and adventure retreat focusing on yoga and transformational programming for the mind, body and spirit. Lumeria offers luxury accommodations, a rich array of classes, organic cuisine from the property's own organic gardens and orchards, and countless healing therapies. Nurturing tropical gardens, private pavilions and the majestic views of the mountains, sea and upcountry Maui offer a unique Hawaiian experience. The property, designed by founder Xorin Balbes, is intended to inspire and allow each individual their own pace to experience a new kind of unplugged escape that is educational and adventurous.
Lumeria encompasses six ocean- and mountain-view acres between the seaside village of Paia and the upcountry paniolo (cowboy) town of Makawao. In addition to its 25 guest rooms and suites, the retreat also features a yoga and event pavilion, a yoga studio, 900-square-foot outdoor yoga platform and 8,000-square-foot lower terrace suited for group activities. The property's restaurant Harvest serves breakfast, lunch and dinner seven days a week with menus featuring local, organically grown produce.
Daily instruction in yoga and meditation are included with accommodations. Further education is made available through customized programs in therapeutic healing arts, water sports, personal growth and transformation, and the history and practices of indigenous Hawaiian culture. Located just 2.5 miles from the Maui's famed North Shore, Lumeria Maui's adventure experiences include surfing, kite-surfing, stand up paddle board and windsurfing sessions, all led by world-class athletes and instructors.
The property is a restored historic site, originally constructed in 1909, and features classic Hawaii-style neo-colonial fusion architecture. In light of its adaptive reuse, the project is listed in the National Registry of Historical Places, and was an honored recipient of a 2012 Preservation Award from the Historic Hawaii Foundation.
For reservations or more information, please visit http://www.lumeriamaui.com.
Media Contact
Burditch Marketing Communications
Paul Burditch
paul(at)burditchmc(dot)com
415.874-9696