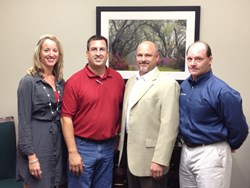 (PRWEB) October 03, 2013
The KLINGER Group headquartered in Austria announces the formation of Klinger Advantage, Inc., as an extension of the group's industrial fluid control presence in the United States. Based in Baton Rouge, LA with locations in Houston, TX and Sidney, OH, the specialty valve company is a result of KLINGER's acquisition of Advantage Technical Services (ATS), also of Baton Rouge, LA.
Klinger Advantage CEO Scott Peters states that, "The combined strengths of ATS's Gulf Coast expertise and the KLINGER Group's global reach make this a natural fit and a great platform for us to build upon." The company serves process industries, such as chemical and petrochemical facilities with specialty valves, actuation and service. Peters continues, "We are extremely happy to have Kynan Fontenot (named Klinger Advantage President) join Klinger and continue building on his years of success at ATS. He brings a skilled team and great ideas that will drive our growth."
The KLINGER Group of Independent Companies was founded in 1886 and is recognized worldwide as a reliable partner for fluid sealing and fluid control products with over 60 independently operated facilities worldwide. For more information, contact Klinger Advantage, Inc. at (225) 291-2997.