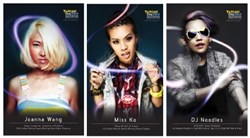 New York, NY (PRWEB) October 02, 2013
On October 16th, CMJ will host the panel "How Taiwan Is Using Concert Collaboration To Bridge Markets" at NYU's Kimmel Center from 3:30-4:30pm. The panel will focus on the interactions and differences of the music scenes/industries in Taiwan and the US, and the implications for American artists wishing to Enter Asia's growing music market.
Several artists such as Wang Leehom and Miss Ko have started their careers in the US only to reach stardom in Taiwan, while companies such as GCA Entertainment have been developing collaborative projects between U.S. and Taiwanese musicians. The panel will include musicians and executives sharing their first-hand experiences on both sides of the Pacific as well as on collaborative projects that can help American musicians enter the Taiwanese and broader Asian markets.
How Taiwan Is Using Concert Collaboration To Bridge Markets
http://www.cmj.com/marathon/conference/panels/2013
Moderator: Eric de Fontenay, MusicDish
Ed Yen, GCA Entertainment (Taiwan)
Taiwanese-American female rapper Miss Ko (Taiwan)
Award-winning singer-songwriter Joanna Wong
Jack Hsu, lead artist for NY-based Hsu-nami
Derek Graham, Vertusent Music Group
Rabbi Darkside, CMJ-charting rapper
MusicDish and Hip Hop USA will host a networking event called "Meet Taiwan Music" at downtown Manhattan's Gonzalez y Gonzalez (192 Mercer St). The event will connect New York and CMJ-attending music industry professionals with the Taiwan delegation and star artists. There will also be a short Q&A session where the audience will be able submit questions regarding Taiwan's music sector and opportunities for collaboration.
To RSVP for the event - http://meettaiwan.eventbrite.com/
Taiwan Music at CMJ 2013 is supported by the following organizations: Radionomy, Hip Hop USA, HYPE Magazine, AsianinNY and Yibada.
Contact info:
Eric de Fontenay
MusicDish
Tel: 718-278-0662
ecfont(at)musicdish(dot)net