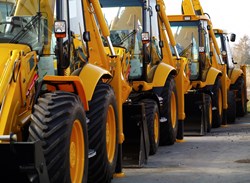 League City, TX (PRWEB) October 03, 2013
Representatives with EHE Auctions say their online platform, which is designed to be a win for both buyers and sellers of heavy equipment, will hold its next auction on Oct. 9.
The monthly auction, which is geared toward heavy construction and farm equipment, commercial trucks and attachments, according to Milissa Wise, Director of Operations for Expert Heavy Equipment, the parent company of the recently launched EHE Auctions, is an opportunity for both the sellers and the buyers.
"Our Oct. 9 auction is a hassle-free way to buy and sell heavy equipment," Wise said of EHE Auctions, which provides a service for individuals and companies that want to dispose of their heavy construction or farm equipment.
Wise went on to point out that buyers and sellers can view the catalog for the Oct. 9 auction at: EHE Auctions and Proxibid.
"One of the main benefits for sellers is that there are no listings or consignment fees, therefore there's zero risk," Wise stressed, before adding, "The seller has an opportunity to market their equipment to global buyers via our strategic partner, Proxibid."
The company's partnership with Proxibid allows EHE Auctions to offer the largest base of global, qualified buyers.
"This ensures a high return on your equipment," Wise said. "What's even better is that with EHE Auctions, there's no transportation costs, no negotiations, and no hassles with photos and video."
The benefit for buyers who participate in the Oct. 9 auction, Wise noted, is that all of the equipment in EHE's auction has a clear IRONcheck Status via National Equipment Registry (NER), which guarantees that buyers are able to bid safely.
"Our partnership with NER provides IRONcheck reports to ensure the machines being offered are not stolen and have no outstanding liens," Wise said. "Because there is no titling process for heavy construction and farm equipment, this allows individuals and companies to avoid potentially huge problems by clearly establishing ownership rights," Wise said. "IRONcheck reports eliminate any surprises for the buyer."
Because EHE requires photos and video of all equipment and vehicles, the buyer, according to Wise, can bid with confidence that the machine/vehicle runs and operates.
"Unlike most auction companies that charge listing fees, plus 3 to 18 percent of the sales price, with EHE Auction, there are no consignment fees," Wise said. "Our Oct. 9 auction will be the best day of the year to buy and or sell heavy equipment.