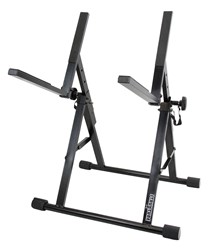 Petaluma, CA (PRWEB) October 03, 2013
Music accessories manufacturer Strukture has partnered with D'Addario Canada to offer its full stand line to the Canadian music products market. As the exclusive distributor of Strukture stands in Canada, D'Addario is an essential part of Strukture's long term plans for expansion, and Strukture is honored to partner with the D'Addario Canada brand.
Canadian music products dealers now have access to a growing line of high quality guitar, amp, microphone and speaker stands, a wide selection of music stands, keyboard benches and keyboard stands. All Strukture products are designed to drive profit, and be everyday "bread and butter" items that form the cornerstone of success for todays music retailers.
To learn more, visit http://www.strukturemusic.com, or call us at 1-800-950-1095 today!
Strukture is a premier manufacturer of music accessories including music stands, keyboard stands, keyboard benches, guitar stands and parts. Strukture is dedicated to designing products that fulfill the needs of all musicians, from students to professional touring artists.