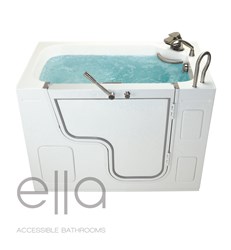 Ella Accessible Bathrooms has designed a new Acrylic Wheelchair Transfer Walk In Bath.
Chicago, IL (PRWEB) October 08, 2013
Ella Accessible Bathrooms, recognized for their acrylic walk in bathtub development, production and distribution for USA and Canadian markets, has designed a new Acrylic Wheelchair Transfer Walk In Bath.
"It is our ongoing mission to help promote a safe and independent lifestyle with our product line, and this is another example of dedication and craftsmanship for individuals that are interested in staying in their homes," stated Vice President of Marketing, Tory Ruohonen. "Our new Wheelchair Transfer model is also ADA compliant."
The bathtub shell is made of solid, non-porous acrylic that features a soft textured surface for non-skid protection. The acrylic is backed with fiberglass substrate for exceptional durability and strength. The two grab bars are strategically placed for maximum support and safety. A customer has the choice of a left or right hand side door and drain, in addition to the soaking, hydro massage, air massage and dual massage models' features.
The Ella Wheelchair Transfer Walk In Bath offers these additional features:

Durable textured acrylic surface
Stainless Steel Frame
Three (3) front removable access panels
Anti-Slip floor for safety
Lifetime warranty on door seal gasket, frame and shell
Large drain plunger with safety chain
17" Seat Height
23.75" Seat Width
Customers who would like more information should visit: http://www.ellasbubbles.com or contact a customer service representative at: 1-800-480-6850.
About Ella's Bubbles, LLC
Ella's Bubbles, LLC, based in Chicago, Illinois, is a nationally distributed OEM manufacturer of acrylic walk in baths and accessible showers. Ella's Bubbles is committed to providing exceptionally manufactured products at a competitive price, while consistently providing quality customer service.
For more information please watch the video:
https://www.youtube.com/watch?v=hocDWBlQyog
Tory Ruohonen
1-800-480-6850
tory(at)ellasbubbles(dot)com