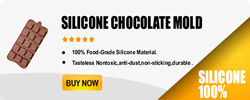 (PRWEB) October 02, 2013
Recently, TOGOHK.com, one of the most popular silicone chocolate mold wholesalers in the industry, has announced a site-wide promotion of all its silicone molds for October 2013. According to a sales manager of the company, great discounts are available on all their traditional and new designs, up to 30% off.
Silicone chocolate molds aren't just for the professional baker; they can be available for the home baker and candy maker as well and people can purchase them in craft and baking stores. The fancy chocolate cakes can be created in flexible silicone molds from a reliable manufacturer like TOGOHK.com.
The CEO of TOGOHK.com says, "We are happy to launch the promotion. As a leading brand in the field of silicone chocolate molds, we would say thank you to everyone. All our silicone chocolate molds go through a strict quality control system. Silicone chocolate or cake molds would be just perfect for more delicate specialties and individual desserts, so we decided to put together a comprehensive range of silicone bakeware to cater for every kind of little treat."
TOGOHK.com is a popular silicone mold provider offering quality mold solutions for nearly 10 years. They provide a wide variety of high quality silicone molds with premier personalized service and attention. The company puts much emphasis on the quality of the products. These new designs of food-grade silicone chocolate molds come with modern manufacturing processes.
About TOGOHK.com
Founded in 2003, TOGOHK has developed into a modern enterprise that offers its clients worldwide a one-stop silicone product solution from conception to delivery. With high technology engineering and advanced CAD and CAM, the company has been serving more than 3000 customers from over 70 countries.
For more information about the business, please visit their website at: http://www.togohk.com