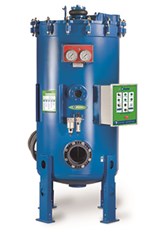 "We are pleased to provide the aquatic filter for such a worthy cause, we hope everyone will tune in or visit the event and donate to help the victims of Hurricane Sandy- there is still so much work to be done." - Barry Gertz, CEO-Neptune-Benson
Coventry, RI (PRWEB) October 03, 2013
Neptune-Benson, a leading manufacturer of commercial pool filtration systems, is a proud supplier of the 2013 NYAD48 in Herald Square in NYC.
On October 8-10, 2013, Diana Nyad will swim again, this time with no jellyfish or sharks but in a Myrtha pool with a Neptune-Benson filtration system. Diana Nyad will swim for 48 consecutive hours to raise money for a great cause. Myrtha has specially designed a pool for the event, being built in New York City's Herald Square just outside of Macy's .
The two companies have teamed up on several occasions in this fashion, converting large capacity arenas into the temporary center of the aquatics universe. There are many victims that need help after suffering the devastation that Superstorm Sandy left in her wake. The hope is to raise awareness and money for these victims to help them to resume their lives the way they were before this storm hit. This 48 hour swim will not only have Diana Nyad swimming but others donating for the opportunity to swim a few laps with Diana Nyad. "We are pleased to provide the aquatic filter for such a worthy cause, we hope everyone will tune in or visit the event and donate to help the victims of Hurricane Sandy- there is still so much work to be done."
To donate, please visit http://www.crowdrise.com/SwimFor Relief.
About Neptune-Benson
Neptune-Benson is the leading manufacturer of filtration systems for aquatic centers, waterparks and aquatic life support. Featuring the award-winning Defender® Regenerative Media Filter, Neptune-Benson also offers steel and fiberglass sand filter systems; the AEGIS anti-entrapment shield; fiberglass movable bulkheads; Dominion butterfly valves; Guardian strainers and other accessory products. Creating the World of Aquatopia Since 1956. See: http://www.neptunebenson.com.
About Myrtha Pools
A&T Europe Group, founded in 1961 in Castiglione delle Stiviere (MN, Italy), quickly became a leader in the international swimming pool market. Thanks to continuous research and development, the Company has achieved numerous technological breakthroughs in the pool market presenting the most advanced technologies and obtaining reliable, exclusive patents.
A&T Europe has built swimming pools in over 70 countries around the world; from Iceland to Arabia, Brazil to Japan, and from the United States to Australia. The Myrtha Technology allows for installations in extreme climates and can be the best solution in even the most extraordinary and challenging environmental conditions. Its exclusive technologies have been selected for international competition events, including the 2012 Olympic Games and 2013 FINA World Swimming Championships. See: http://www.myrthapools.com or http://www.myrthapoolsusa.com.
Contact:
Jill Bibby, Director, Marketing
jbibby(at)neptunebenson(dot)com
401.821.2200 ext. 120