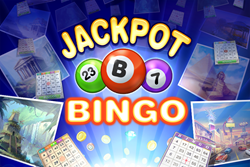 San Francisco, CA (PRWEB) October 03, 2013
GREE today announced the launch of its newest mobile casino title, Jackpot Bingo, exclusively for Android devices. The game will delight Bingo aficionados and novice players alike by bringing a modern approach to the classic game. Jackpot Bingo is available now for free on Google Play.
"Who doesn't enjoy a game of Bingo from time to time? We wanted to create an authentic experience with a modern approach that will allow fans to play Bingo on their couch or on the go," said Ken Chiu, SVP, Social Games, GREE International, Inc. "We are excited to launch this second game within our Jackpot franchise. Jackpot Slots, our first top-charting casino title, has been widely popular among Android gamers and we're thrilled to deliver another casino hit exclusively to Android users."
Jackpot Bingo brings the excitement and anticipation of shouting "BINGO!" to fans from the convenience of their mobile devices. The game transports players to a bustling Bingo hall complete with an enthusiastic caller, and themed rooms featuring unique game cards, hand-drawn art, and custom music. The title is loaded with boosts and rewards to enhance each player's winning potential. In Jackpot Bingo it's "the more the merrier" as players will be able to invite others to join the fun through Facebook, email and SMS. GREE currently plans to release additional social features in the near future, including the ability to message other players, compete in online live events, and join mobile Bingo leagues.
Jackpot Bingo is available for free on Google Play at: https://play.google.com/store/apps/details?id=jp.gree.jband
For more information on the game, follow us on Facebook at http://www.facebook.com/GREEGames or on Twitter at @GREEGames.
For more information about GREE, please visit http://www.gree-corp.com.
About GREE
GREE is a global mobile social company with businesses that include social gaming, social media, advertising, licensing and merchandising, and venture capital. Established in December 2004, GREE created the world's first mobile social game in 2007 and today operates one of Japan's largest social networking services. With studios in Tokyo, San Francisco, Vancouver and Seoul, GREE employs approximately 2,500 people around the world. GREE is listed on the Tokyo Stock Exchange (3632).