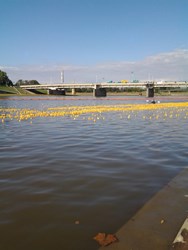 The massive tide of yellow ducks converging on the river was a beautiful visual representation of the power of individuals, families, and corporations like FFG coming together to enhance the lives of others.
Dayton, Ohio (PRWEB) October 03, 2013
Foundation Financial Group has announced the conclusion of its sponsorship for the 2013 Rubber Duck Regatta, an annual fundraiser that helps United Rehabilitation Services improve the lives of disabled children and adults. Four months of FFG's corporate and employee support for United Rehabilitation Services culminated in 17,000 rubber ducks being dropped into the Miami River.
"My favorite moment was definitely the big drop and the rubber duck race," said Tessa Lawson, Foundation Financial Group event coordinator. "Each duck represented community support for assisting those with disabilities. The massive tide of yellow ducks converging on the river was a beautiful visual representation of the power of individuals, families, and corporations like FFG coming together to enhance the lives of others. Each duck was part of a bigger flock, and each life enhanced by URS is part of the fabric of our community."
In addition to various fundraising efforts, Foundation Financial Group also provided staffing support at the Rubber Duck Regatta. Employees arrived early to help with event setup. They inflated ducks and assembled tents. Later in the day, FFG volunteers assisted with the Quacky Kids Parade by passing out free noise makers to all the children and organizing a march around the pavilion. After the rubber duck race was over, Team FFG stood in shin-deep water and used nets, laundry baskets, and mini-swimming pools to help remove thousands of rubber ducks from the Miami River.
"I wish I knew a better way to communicate just how special the URS Rubber Duck Regatta is to the Dayton community," continued Lawson. "The true excitement and efforts put forth by everyone supporting the event was so amazing. Foundation Financial Group gave more than just time and money; we gave our hearts! I hope that we have helped bring awareness to URS and its mission through our Rubber Duck Regatta Sponsorship. If we can all stay dedicated, the Regatta will continue to succeed."
To help URS meet a goal of racing 15,000 rubber ducks at the Regatta, FFG and other sponsors encouraged community members to adopt rubber ducks for a $5 donation per duck. United Rehabilitation Services exceeded its goal with over 17,000 rubber duck adoptions. Corporate sponsors like Foundation Financial Group made it possible for all of the proceeds from the 2013 Rubber Duck Regatta to directly support people with disabilities and ensure that URS can continue to help those in need.
Originally founded in 1956 as the Dayton Chapter of United Cerebral Palsy, United Rehabilitation Services now provides daily services to more than 400 people with Cerebral Palsy, Down Syndrome, Muscular Dystrophy, Autism, Alzheimer's Disease, Pervasive Developmental Disorders, and many other disabilities. URS services include therapy programs, transportation assistance, and vocation programs. As a member of the Better Business Bureau, URS programs adhere to rigorous charitable giving standards, and URS services are accredited nationally and locally.
About Foundation Financial Group
Foundation Financial Group is a multibillion dollar financial services corporation. FFG offers its customers Best in Class service through its Insurance, Retirement, and Mortgage Services. Named one of the fastest growing financial companies in the country by INC magazine for the third year running, FFG has continued to grow its nationwide presence with over 100,000 new customers per year in 39 states. In addition to the value that Foundation Financial provides every customer, it is also dedicated to its communities and the people who live in them. Through a vast array of philanthropic endeavors, the company not only provides significant monetary donations but also fosters a workforce environment that encourages all team members to personally make a difference. Foundation Financial is committed to its strong focus on customer service and community investment as it continues to grow and compete with the largest financial institutions in the world.
Foundation Financial Group reviews all public relations inquiries. For additional information, interview and image requests, contact the Foundation Financial Group Public Relations Team.