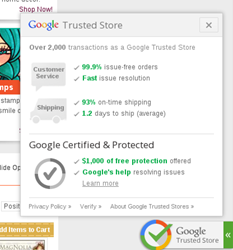 "MarkerPOP is honored to be recognized as a Google Trusted Store," said Ashley Ta, co-founder of MarkerPOP. "MarkerPOP is excited to welcome new customers and is committed to continuing our mission to be the ultimate trusted source for Premium Markers an
(PRWEB) October 31, 2013
The Google Trusted Store badge gives online shoppers a sense of security when making a purchase with a new site. Also benefiting, sellers are given a chance to attract new customers by offering reliable
service and efficient shipping. MarkerPop.com recently received the Google Trusted Store badge which helps shoppers identify online merchants that offer a great shopping experience. The badge is awarded to eligible e-commerce sites that demonstrate a track record of on time shipping and excellent customer service.
Online shoppers may be weary of making purchases from a site with an unfamiliar name, not knowing if they can trust the reliability and integrity of the website. Stores with the Google Trusted Store badge also offer an additional
peace of mind with the option to select free purchase protection from Google. If a problem arises with their purchase that cannot first be resolved with the merchant, they can request Google's help working with the merchant and customer to address the issue. As part of this option, Google also offers up to $1,000 lifetime purchase protection for eligible purchases in the rare event of a problem.
"MarkerPOP is honored to be recognized as a Google Trusted Store," said Ashley Ta, co-founder of MarkerPOP. "MarkerPOP is excited to welcome new customers and is committed to continuing our
mission to be the ultimate trusted source for Premium Markers and Crafting Products."
"Serving our customers is our top priority," said Ashley Ta. "With the Google Trusted Store badge displayed proudly on our site, new shoppers who aren't as familiar with us can be assured they will be satisfied with their first experience with us."