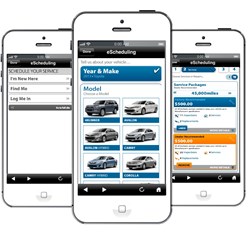 It's innovations like these that give Xtime dealers an average 5% boost in service retention.
Redwood Shores, CA (PRWEB) October 03, 2013
Xtime, the leading cloud-based customer retention management platform for the automotive service industry, today announced the extension of its intuitive and convenient 7 Series consumer online scheduling interface to its mobile scheduling application and popular online service menus.
Along with the introduction of the Consumer 7.0 online scheduling interface earlier this year, the industry's leading customer retention platform now delivers an exceptional customer experience through every service booking channel.
Xtime's new Menu 7 displays VIN-specific factory and dealer service recommendations, a personalized service timeline, pricing for both factory and dealer recommendations, the ability to book the services selected (with the Xtime scheduling system), and is customizable to work within both manufacturer and dealer websites.
Menu 7 recommendations and prices are identical throughout Xtime's platform, a consistency that enables all dealership personnel (advisors, managers, call center agents) to provide accurate service recommendations and price quotes for services on any vehicle. Menu 7 also powers Xtime's online, mobile, and in-vehicle telematics scheduling channels. By providing clear, consistent service recommendations, Menu 7 instills customer confidence and trust while providing a convenient online purchasing experience within the Xtime platform.
The new mobile application, Mobile 7, is automatically launched when a consumer lands on a dealer's website using a mobile device, seamlessly extending the intuitive and convenient 7 Series online interface to any modern mobile device. Mobile 7 displays image-based vehicle and service advisor selections while booking mileage-based service packages and individual services and repairs. It enables "New Customer," "Find Me," and "Log In" entry points, enabling the dealership to address the complete spectrum of potential customers visiting the dealer's website from their mobile device.
"Every aspect of the Xtime consumer experience is now state-of-the-art, which enables our dealers and manufacturers to meet the expectations of their increasingly demanding customer base," said Neal East, CEO of Xtime. "By giving their service customers a visually appealing, transparent and convenient path to buying service, our dealers maximize the chance of retaining them. It's innovations like these that give Xtime dealers an average 5% boost in service retention."
Menu 7, Mobile 7 and Consumer 7 are components of Xtime's ServiceCRM® customer retention platform. It allows dealers and automotive manufacturers to present a modern, sophisticated digital interface to customers through the entire lifecycle of vehicle ownership while meaningfully improving key satisfaction, retention and profitability metrics.
Helpful Links

Availability
Menu 7 and Mobile 7 are immediately available in English and French to qualifying dealers servicing all major brands. Interested dealers should contact their Xtime representative, or contact Xtime at (888) 463-3888 or salesweb(at)xtime(dot)com.
About Xtime
Xtime is the leading cloud-based customer retention platform for automotive manufacturers and dealer service departments. Xtime counts more than 5,000 dealerships as customers and has registered more than 2 million consumers. Xtime processes more than 1.5 million appointments each month and has scheduled more than 50 million in total.
Xtime is the exclusive or preferred provider for leading global automotive manufacturers in North America, including Hyundai, VW, Nissan, BMW, Lexus, Kia, Infiniti, Toyota Canada and Audi. Xtime is also the trusted choice for many of the industry's leading dealership groups including AutoNation, Group 1 Automotive, Sonic Automotive, Asbury, Luther and Checkered Flag.
Xtime is based in Redwood Shores, CA and has offices across the globe. Learn more at xtime.com.