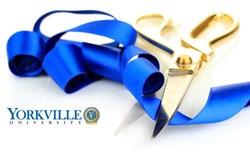 Fredericton, New Brunswick (PRWEB) October 04, 2013
Yorkville University opened ten years ago on the 3rd floor of 1149 Smyth Street in Fredericton, New Brunswick with 4 employees and no students. Today, Yorkville University is proud to announce over 45 employees have moved into new administration offices at Yorkville Landing. The need for a new building is a direct result of the growing number of students and the growing number of faculty and support staff who manage the programs of this online university.
On October 24th, the Board of Governors and administrative staff will celebrate the official opening of Yorkville University's new campus and the continuing contribution to Fredericton's business development. The ceremony will take place at Yorkville Landing, 100 Woodside Lane, Fredericton, at 1:00 PM.
Yorkville University is a Canadian university dedicated to providing accessible professional program, designed for working adults with busy schedules. Our instructors hold advanced degrees and professional experience in their fields of expertise. Courses are delivered through an innovative online learning platform. Yorkville University offers the following programs:

Master of Arts in Counselling Psychology
Master of Education in Adult Education
Bachelor of Business Administration
Be part of the celebration! Record a short video of yourself saying "Congrats YU!" with your name and city. We have created a custom application on our Facebook page to connect the national and international community Yorkville University's virtual classroom has nurtured. Visit our Application for full instructions.