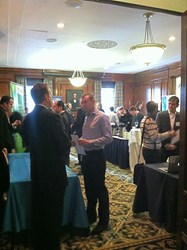 New York City, NY (PRWEB) October 08, 2013
The WSTA is pleased to announce that Scott Bradner, Senior Technical Consultant, Harvard University will be the keynote speaker at its October 24th educational seminar in Boston. This will be a full-day event to include breakfast, lunch and end with a networking reception. For the full agenda and other details, visit our website.
Educational presentations targeted to financial technology professionals will cover:

Solid Clouds - Using Cloud Architectures and Services for High Value Business Applications
Safely and Securely Adopting Cloud Computing
I Was Blind, But Now I See: Advanced Threats and Modern Countermeasures
Ready-made Big Analytics Applications in the Cloud
What you need to know and how to prepare for the real impact that DDoS can have on your business
The 3 U's of Self Service BI
Agile Security Assurance through Big-Data Analytics
Security Intelligence Through Endpoint Analytics: Deriving Insight from Chaos
Behavioral Analysis - Next Generation SQL Injection Threat Detection
Advanced Persistent Response to Modern Bank Heists
Security and Compliance: Secure confidential business information while maximizing access and collaboration
Seminar Description
Financial institutions increasingly need to make critical business decisions quickly and accurately. To achieve their goals, they must have rapid access to all the information they may need, the ability to transform vast amounts of data into actionable business intelligence, and they need to do all this without fear of the data being compromised.
As such, the strategic integration of big data resources, cloud technology and robust information security is absolutely essential for leading-edge financial institutions to maintain their competitive edge. This seminar clearly demonstrates that this level of integration is available now, and financial IT executives should consider ways to integrate these technologies into their overall strategic planning.
Profile
For over 45 years, the Wall Street Technology Association (http://www.wsta.org) has provided financial industry technology professionals, vendors, service providers, and consultants forums to learn from and connect with each other. The WSTA facilitates educational seminars and networking events where members meet and exchange ideas and best practices that assist them in effectively capitalizing on technology advances and dealing with financial industry business challenges. Founded in 1967, the WSTA is a not-for-profit association with a long history of evolving to meet the needs of its members.