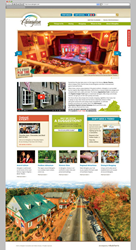 Abingdon, VA (PRWEB) October 04, 2013
The Town of Abingdon's Tourism Department is proud to announce the launch of the new "Visit Abingdon, Virginia" website, a one-stop portal for promoting the destination. The website comes on the heels of a new rebranding effort for Abingdon. The tourism department has been working over the past two years with the graphic design firm, Mikula|Harris, to develop a research-based brand for Abingdon. These efforts have resulted in a new logo, slogan, printed materials, tourism video and website. The new visitabingdonvirginia.com website provides information and suggestions to help travelers plan their trip to Abingdon by featuring high-quality images, a new tourism video, trip ideas, direct booking software, and social media links.
"We are very pleased with the work that has done with the website," said Kevin Costello, Director of Tourism. The site makes use of responsive design technology which allows the website to adjust to the platform a person is using to browse the web, be that their desktop computer, tablet or mobile phone. We hope this highly functional website will make it easier for visitors to find out more about all the attractions, shops, restaurants, outdoor activities and lodging options that are in Abingdon. Like the video says, "It's always play time in Abingdon."
Visit the new website at http://www.visitAbingdonvirginia.com. For more information, please call the Abingdon Convention and Visitors at 1-800-435-3440.