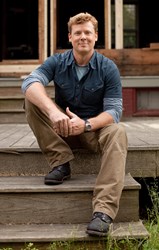 I want people to approach new home projects with confidence.
Salt Lake City, Utah (PRWEB) October 04, 2013
Kevin O'Connor, well-known host of This Old House and Ask This Old House on PBS, will provide insider tips and tricks for home projects during his seminars on October 12, 2013 at the Deseret News Fall Home Show. O'Connor will discuss his approach to common home improvement problems, answer audience questions, and describe his experiences while on television.
"During the Home Show, I want to explain the central mission of This Old House, which focuses on making home, whether it be new or old, more efficient and something to be proud of," said O'Connor. "I want people to approach new home projects with confidence. Nothing is accomplished without diving in and getting your hands dirty first. And, if bigger problems surface, you can always ask for expert help."
Prior to his television debut, while renovating his first home, O'Connor encountered a few unforeseen problems and sought the help of Ask This Old House experts. Tom Silva, general contractor on PBS's This Old House and Ask This Old House, arrived at O'Connor's doorstep to lend his expertise and assistance. Months after his guest appearance, the This Old House team contacted O'Connor to offer a hosting position on the show. O'Connor quickly made the transition from financial expert to Emmy Award-nominated television host and is now in his tenth year of hosting.
O'Connor takes the Design Stage at the Home Show on Saturday, October 12, at 1 p.m. and 4 p.m.
In addition to the national celebrity guest, the Deseret News Fall Home Show welcomes the Six Sisters, prominent bloggers from Utah. The sisters' blog, sixsisterstuff.com, has become the go-to resource for simple recipes, home projects, and fun ideas for everyday life. At the Home Show, the sisters will share easy family-style dinner ideas during their seminars on Friday, October 11 at 7 p.m. and Saturday, October 12 at noon.
As always, the Fall Home Show features more than 300 local and national vendors, specializing in everything home construction, design, and improvement.
The Deseret News Fall Home Show
October 11–13, 2013
Location:
South Towne Expo Center
9575 South State Street
Sandy, Utah
Admission:
Adult (Online) $8
Adult (Door) $10
Seniors $7
Children (12 & Under) Free
Group (20 or More) $7
Teacher Appreciation & Hero Day: Teachers along with active and retired fire, police and military personnel get into the Home show free on Friday, October 11. To receive a complimentary admission pass, show a valid ID at the entrance to the show.
For more information, visit http://www.saltlakehomeshow.com.