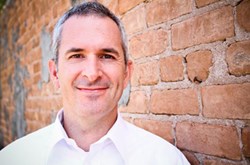 Keith is an incredible visionary and strategist on how to answer our call to end poverty
Phoenix, Ariz. (PRWEB) October 04, 2013
Global poverty solutions partner Food for the Hungry is proud to announce that Keith Wright has been named President of the organization, after having served as International President and chair of the Global Executive Office since 2011.
Wright has more than 20 years of innovative relief and development leadership and implementation experience in Africa, Latin America, Asia and the U.S., 11 of them working and living in Africa. He has served in various capacities with FH for over 13 years.
The move came as former FH U.S. President Dave Evans resigned his post to follow his first passion of working in Africa doing on-the-field program leadership.
"Keith is an incredible visionary and strategist on how to answer our call to end poverty," said Larry Jones, Co-Chair, FH Board of Directors. "His leadership has taken FH's mission to the most unreached places to help the world's most vulnerable people thrive."
###
Founded in 1971, Food for the Hungry provides emergency relief and long-term development programs with operations in more than 20 countries to help the world's most vulnerable people. Learn more by visiting http://www.fh.org. Social connections include http://www.facebook.com/foodforthehungry and http://www.twitter.com/food4thehungry.