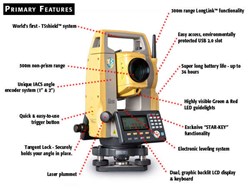 Topcon's new ES Series Total Stations – New Advanced Design with Superior Technology
(PRWEB) October 05, 2013
The Topcon ES-105 Total Station feature class leading EDM that is able to measure up to 1,640 feet in reflectorless mode and approximately 13,123 feet using a single prism at an incredible 2mm + 2ppm accuracy. Measurements can be as fast as 0.9 seconds and the Topcon EDM algorithm reduces the signal noise associated with non-prism measurements, providing accurate results over longer distance.
The ES-105 total station has a 10,000-point internal memory for storing field data, USB and RS-232c serial port and can be used with any of Topcon's field controllers, such as the Topcon Tesla, FC-2600, FC-250, FC-236 and FC-25.
ES-105 Total Station Includes :

ES-105 Total Station
1 Battery (BDC70)
Battery Charger
Lens Cap
Lens Hood
Tool Pouch
Screwdriver
Lens Brush
Adjusting Pin
Cleaning Cloth
USB stick with digital Manual
Quick Guide
Carry Case
Carry Straps
About Surveying Equipment Palace
Surveying Equipment Palace offers the construction industry and the rise of a wide range of products and brands that you know and trust to provide the highest quality goods and services at the most competitive prices.
Surveying Equipment Palace are not just based on the Internet, but we are proud of the strength we have over 20 years experience and operate through a national network of offices.