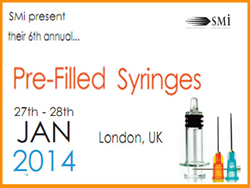 "The meeting improves each year and should become a fixed date on the calendar for anyone interested in Pre-Filled Syringes". Senior Director, Pharma Representative
London (PRWEB UK) 4 October 2013
SMi Group reports: Registration for Annual Pre-Filled Syringes - 2014 is now open. With one of the most established European market leaders on this subject and the huge successes of their previous meetings, SMi will provide another great forum for new advances in this field.
Now in its 6th year, the 2014 conference will bring together experts from a range of industry perspectives to discuss solutions and strategies within key issues such as syringe formulations for biosimilars and other biologics, extractables and leachables, primary packaging developments and filling and finishing.
What's new in 2014:

2 days, 20 speakers, 18 unique presentations;
Top-Ranked Speaker Faculty includes leading experts from Pfizer, GlaxoSmithKline, Merck, Boehringer Ingelheim, Ipsen, Roche, Novo Nordisk and many others.
2 panel discussions hosted by Advait Badkar, Bioprocess R&D, Pfizer, Adam Woolley, CEO, ForthTox, Bobbijo Redler, Principal Scientist, Merck, Jason Creasy, Head of Extractables & Leachables Team, GlaxoSmithKline;
2 Interactive half-day post-conference workshops: Leachables & Extractables, hosted by Andrew Fieldon, Senior Consultant, Smithers Rapra, and Large Volume Injectors – Technologies, Strategies and Guidance, hosted by Stephen Augustyn, Head of Mechanical Engineering, Team Consulting;
£999 (Conference only) for the first 25 pharmaceutical companies;
Pre-Filled Syringes – 2014 is proud to be sponsored by BD, Schott, West and Zeon.
Key reasons to attend:

Learn about the latest regulatory updates from MHRA and FDA bodies
Hear exclusive news on autoinjector technologies
Hear about manufacturing of container integrity and reduction in leachables
Expand your professional network, meet leading specialists within the industry
Get a chance to introduce your company and its services to potential partners
For the full conference programme and further information please visit:
http://www.smi-online.co.uk/2014pfs25.asp
Alternatively contact Fateja Begum on +44 (0)20 7827 6184 or email: fbegum(at)smi-online(dot)co(dot)uk
Sponsorship opportunities are available for this event, please contact Alia Malick, Director, on +44(0) 20 7827 6168.
Contact for media-partners: Julia Rotar, jrotar(at)smi-online(dot)co(dot)uk, +44 (0) 20 7827 6088. __title__ European Pre-Filled Syringes market]