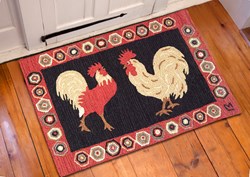 Manchester Center, VT (PRWEB) October 04, 2013
Chandler 4 Corners, makers of hand-hooked wool pillows, rugs, and home accessories is starting off the Fall Foliage season with an exciting giveaway and a month of free shipping! For the first time ever, Chandler 4 Corners will be giving away a hand-hooked wool rug at the end of October to the winner of their Fall Foliage Photo Giveaway.
Entering the giveaway is easy—just take the very best, drop-dead gorgeous fall foliage photo possible and post it on the C4C Facebook page! (To enter, participants must have a Facebook account. There is no charge to set one up.) The winner will be selected from a hat at the end of the month and will be receiving "Face-Off", a handsome 2'x3' hand-hooked wool rug with two fine roosters set in the middle of a red decorative border.
Free shipping in October means everyone (in the continental US) can get the newest Chandler Halloween pillows easily. It also provides the perfect opportunity to save on holiday shopping and home decor. Indeed, by buying Christmas gifts all at one place and taking advantage of Chandler 4 Corners generous shipping offer, holiday shoppers can save a bundle!
In addition to exceptional Halloween and Holiday collections, Chandler 4 Corners has a broad selection of decorative accent pillows, rugs and benches with skiing motifs, autumnal designs (perfect for any Thanksgiving hostess!), and lifestyle collections to suit any gift recipient: Lake & Lodge, Dog Lovers, Sea Coast dwellers, and even a new line of children's pillows, too—Julya's Designs.
Don't miss these two opportunities to get more Chandler 4 Corners wool goodness! Chandler 4 Corners has been offering pillows, rugs and household accents since 1995. Based in Manchester Center, VT the company sells to retail shops, leading catalogs, and individuals across the country. Made of pure wool, Chandler 4 Corners hand-hooked products are designed by Laura Megroz, whose nostalgic motifs recall a simpler, more carefree, happy time. For more information, visit chandler4corners.com.