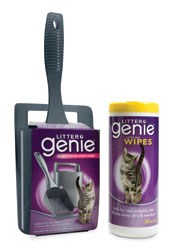 Shelton, CT (PRWEB) October 07, 2013
Playtex Products, LLC recently selected TFI Envision, Inc. to create the packaging graphics for 2 new Litter Genie® cat litter disposal system products: the Litter Genie® Deluxe Litter Box Scoop & Caddy and the Litter Genie® Litter Box Wipes.
Maintaining the Litter Genie® brand architecture ensures that the brand has a cohesive look on shelf and allows shoppers to quickly identify their preferred brand. The back panels highlight the product features and benefits.
These products are now available at Target stores.
Since 1975, TFI Envision, Inc. of Norwalk, CT, has specialized in developing strategic design and marketing solutions for branding, packaging, promotion, digital and corporate communications; helping organizations achieve their marketing and communication goals with compelling, consistent messaging that is on brand and on target.