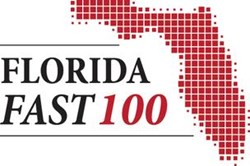 Our team is very proud to see all of their hard work paid off. We hope to do it again next year, - CEO and Owner, Manny Balani.
Miami, FL (PRWEB) October 07, 2013
Miami, FL - Gotham Cigars received the honor of ranking #64 on the 2013 list at the Gaylord Palms Resort and Convention Center in Kissimmee, FL on September 26th. In the cigar industry it is important to continue to expand and bring your customers new cigars and cigar accessories as they come out, and Gotham continues to do that. This allows Gotham Cigars to continue to grow as a company even during the financial hard times that are out there. There is a combination of hard work from the employees at Gotham Cigars, as well as everyone doing what it takes to keep Gotham among the top picked cigar retailers in the cigar market.
In order to be recognized by this prestigious list, the Florida Fast 100 Awards list, companies must be privately owned, held and headquartered in Florida, must show tremendous growth between 2010 and 2012, and companies must provide documentation that verifies their revenue earning. Gotham Cigars is located in Doral, Florida and has seen a revenue growth of 122% since 2010 which has earned them their spot in the Florida Fast 100 list.
"Our team is very proud to see all of their hard work paid off. We hope to do it again next year," commented CEO and Owner, Manny Balani.
Earlier this year, Gotham Cigars received the 21st ranking in the South Florida Business Journal's Fast 50, which recognizes the 50 fastest growing businesses in South Florida. Gotham Cigars was also honored with a ranking of #1,226 on the Inc. 500/5000 list this year which recognizes the fastest growing Privately Held Companies in 2013.
About Gotham Cigars:
Gotham Cigars offers customers one of the country's largest and freshest selections of Premium Cigars, Machine Made Cigars, Filtered Cigars and Humidors. Selling top brands like Alec Bradley, Gurkha, Acid, Phillies, Swisher Sweets and many more has kept Gotham a top pick among other cigar retailers. Gotham Cigars has received five-star ratings by the most trusted online comparison websites for its huge selection, fast shipping and great customer service. Every day customer service is ready to help with any questions or issues their customers have, whether it is a cigar recommendation, to place an order, or an issue with an order, Gotham is always ready to help.