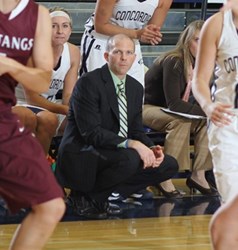 Seward, Nebraska (PRWEB) October 05, 2013
An impressive list of women's basketball coaches, including two with Concordia connections, will headline the Saturday, Oct. 12 coaches' clinic hosted by Concordia University. Current Bulldog head women's basketball coach Drew Olson and former head coach and alum Todd Voss will each conduct sessions of one hour and 15 minutes in length that day.
"I'm extremely excited to welcome roughly 100 high school coaches to our campus for a clinic featuring such distinguished collegiate women's basketball coaches," Olson said. "It's also a huge privilege to be able to speak among these great coaches. To have Coach (Connie) Yori and Coach (Jim) Flanery, among others, speak at Concordia is a big deal."
University of Nebraska-Lincoln head women's basketball coach Connie Yori and associate head coach Sunny Smallwood, Creighton University head coach Jim Flanery and University of Illinois associate head coach Mike Divilbiss will all take turns speaking inside Walz Arena next Saturday (schedule below), in addition to Olson and Voss.
For Voss, who led Bulldog women's basketball to a school record-setting 36-2 mark in 2002-03, the opportunity to return to his alma mater next week is one he could not pass up.
"I always love coming back to Concordia," Voss said. "Concordia University holds a very dear spot in my heart and for good reason. It has had a huge impact on my life. It is a place full of so many special memories for both me and my wife, Amy, who also is a Concordia graduate."
Voss also feels honored to be part of an accomplished cast of coaches at the clinic.
"It's a great lineup of coaches and I'm really excited to be a part of it," Voss said. "I've been fortunate to cross paths with all the speakers in this event through my coaching career, and I know that it will be an outstanding clinic. I look forward to presenting and learning from some of the great minds in the game."
Dan Lesoing of the Cornhusker Shooting Stars AAU team served as the primary organizer of the event.
Oct. 12 coaches' clinic schedule:

8:15 – 9:30 a.m. – Todd Voss, Southwest Baptist University
9:45 – 11 a.m. – Connie Yori, University of Nebraska
11:15 a.m. – 12:30 p.m. – Mike Divilbiss, University of Illinois
1:15 – 2:30 p.m. – Sunny Smallwood, University of Nebraska
2:45 – 4 p.m. – Drew Olson, Concordia University
4:15 – 5:30 p.m. – Jim Flanery, Creighton University
Concordia University, Nebraska, founded in 1894, is a fully accredited, coeducational university located in Seward, Neb. that currently serves over 2,100 students. Concordia offers more than 50 professional and liberal arts programs in an excellent academic and Christ-centered community that equips men and women for lives of learning, service and leadership in the church and world. For more information, visit cune.edu.