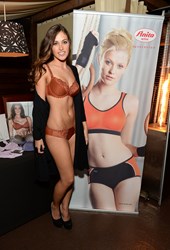 Designer's Night Out was a very unique and successful experience for Anita. We were honored to participate in such a high-caliber, prestigious event and co-mingle with the talented designers present. -Theresa Antretter, Anita Care Division Manager
Los Angeles, CA (PRWEB) October 07, 2013
ANITA intimate apparel heralded the start of Los Angeles Fashion Week by sponsoring "Designers' Night Out" and helping promote Breast Cancer Awareness month. Produced by á LA Mode Productions, "Designers' Night Out" was a celebration of 15 of the finest fashion designers in Los Angeles, benefiting not-for-profit organization, Breast Cancer Angels at the Sofitel Riviera 31 in Beverly Hills.
As the title sponsor of "Designers' Night Out", ANITA intimate apparel participated in the evening's informal modeling by showing three of the latest styles from its Rosa Faia Collection. "Designer's Night Out was a very unique and successful experience for Anita. As a Ft. Lauderdale-based company, it can be challenging to get this kind of exposure on the west coast so we are honored to participate in such a high-caliber, prestigious event and co-mingle with the talented designers present," says Theresa Antretter, Anita Care Division Manager.
Anita also made a generous donation of over $1600 worth of post-surgical intimate apparel products to not-for-profit breast cancer relief fund, Breast Cancer Angels. Antretter adds, "Our only hope with the Anita Care [product] donation to Breast Cancer Angels is to put a smile back on a woman's face. Facing this dreaded disease is a difficult time and undergarments are the last thing on her mind. We hope our products will be able to bring some comfort and normalcy back to her life."
Breast Cancer Angels is the only not-for-profit organization of its kind in the area, financially aiding women and men and their families who are going through stage 4 metastatic breast cancer and are on permanent disability. Breast Cancer Angels Marketing Director, Caitlin Cutt explains, "Participating in Designers' Night Out was really important for us because it is the kind of exposure we need in the Los Angeles area. I'm happy to say that 100% of the funds we raise tonight are staying in Los Angeles County for the Breast Cancer Angels Emergency One-Time Assist Fund."
About ANITA
Over 127 years' experience, and a clear eye for quality, function and comfort make Anita one of the most authoritative intimate apparel specialists in the world. With a diverse line of products that cater to women of all body types and ages, ANITA offers unique products that gives women confidence.