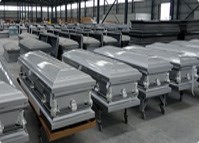 (PRWEB) October 06, 2013
Recently, MillionaireCasket.com, a renowned casket manufacturer and retailer, has proudly announced its caskets wholesale again. All these new caskets come with solid exterior and comfortable interior. Inside, there is an adjustable bed and mattress, with a beautiful picture of the oak leaf on the lid.
According to Zoe Wong, CEO of the company, the new caskets are mostly made of wood and metals. Bronze, copper and stainless steel are the most popular. They can be made in different thickness and weight. Usually, steel metal caskets come in 16 to 20 gauge metal, while bronze and copper metal caskets are made from 32-ounce metal.
MillionaireCasket.com is one of the world's leading casket manufactures and retailers in the industry. It provides a wide range of metal caskets and wooden caskets to customers worldwide, including simple caskets as well as intricately designed and embroidery caskets. The company has a strict quality control policy.
"This new collection is the latest product of our company. All caskets are offered with a 1-year warranty covering all of the parts, labor and shipping expenses. We are experienced in the casket industry. We aim to help everyone that wants to purchase a casket online. Don't hesitate to contact us if you have any problems." Zoe Wong says.
About MillionaireCasket.com
Millionaire Casket is a leading casket manufacturer. It has been focusing on the business of casket wholesale for years. This company offers an exquisitely crafted line of all kinds of metal caskets, solid wood caskets, veneer caskets, cremation caskets, and more. The standard quality control policy is strictly applied here, and a third party quality assurance is also available.
More details at: http://www.millionairecasket.com/