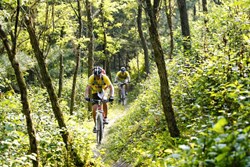 When people get out in the woods, on the trails, or on our rivers and lakes they value them and work to expand and preserve these incredible natural assets.
(PRWEB) October 08, 2013
In the East Tennessee River Valley outdoor competitions like the Tennessee Adventure Challenge and RiverRocks display the accomplishments and initiatives being taken by two leading outdoor organizations in the region, Outdoor Knoxville and Outdoor Chattanooga who are teaching citizens about the exciting opportunities in their own backyards. These events happening in October provide an outlet for outdoor enthusiasts and beginners to challenge each other as well as promote the adventure lifestyle and accommodations that are so readily available in the East Tennessee River Valley.
Sister Cities in many aspects, Knoxville and Chattanooga, linked by the Tennessee River, are leading the way in outdoor initiatives; promoting and encouraging people to get out and enjoy their environment. Outdoor Knoxville is situated at the head waters of the Tennessee River and acts as a gateway or home base to all things outdoors. Visitors are able to rent equipment, take classes, and learn about local trails and waterways. The facility is an information source for all experience levels. Executive Director Carol Evans, who is leading these outdoor enterprises in the region says, "The Outdoor Knoxville initiative, coordinated by Legacy Parks Foundation, provides both residents and visitors the information and resources to get out and play in the incredible outdoors that we have in the East Tennessee region. We know that when people get out in the woods, on the trails, or on our rivers and lakes they value them and work to expand and preserve these incredible natural assets."
This year Outdoor Knoxville is set to host the Tennessee Adventure Challenge in the newest addition to Knoxville's outdoor recreational areas, the Urban Wilderness. Forty-two miles of trails connect all throughout the South Knoxville region joining together Ijams Nature Center, Forks of the River Wildlife Management Area, William Hastie Natural Area, Marie Myers Park, and Anderson School. Outdoor Knoxville will be utilizing the Urban Wilderness as the course for the Tennessee Adventure Challenge on October 11-12, 2013. Course details are kept a secret, but it's known that the challenge will end with an extravaganza in Market Square. Any outdoor enthusiast can take part in this challenge. A skill level is not required although participants must be able to withstand four to six hours of physically demanding activity including anything from mountain biking, trail running, rappelling, ziplining, kayaking, canoeing, riverboarding, and swimming.
Just down the Tennessee River lies Outdoor Chattanooga. Situated in Coolidge Park, this organization invites visitors and locals alike to "Come Out and Play," while promoting and protecting the outdoor lifestyle. The Outdoor Chattanooga facility acts as a visitors center as well as a hub for summer seasonal programs and fall, winter, and spring events. Their LEED certified facility is open year round to welcome anyone needing a resource for Chattanooga's outdoor community and giving the beginner a gateway to the outdoors. Outdoor Chattanooga promotes the usage of the blueway trail system, a 45 mile river trail winding from Chickamauga Dam to Nickajack Dam where paddlers are able to experience Chattanooga through the meandering byways or main channel of the Tennessee River. For the more land oriented outdoor adventurer, Chattanooga also boasts a bike transit system with an inventory of over 300 rentable bikes around the city and miles of trails for the runner or casual walker.
Happening now through October 13, Outdoor Chattanooga is assisting in facilitating the kayaking and swimming portions of RiverRocks, a fun family event filled with hot air balloons, regional music, river cruises, and sporting events. The purpose of RiverRocks is to celebrate Chattanooga's vibrant outdoor culture through adventure sports and local tradition. This 10 day event includes, but not limited to a vendor fair, bluegrass festival, trail race, cycling, canoeing and kayaking, paddleboarding, bouldering, and swimming. Outdoor Chattanooga will also be partnering with the Chattanooga Open Water Swimmers to ensure safety in the "Swim the Suck" portion of RiverRocks on October 12 as one of their many events in the fall to promote the outdoor lifestyle and resources of Chattanooga.
These are only highlights from a vast wealth of events and sites. Take a look at the East Tennessee River Valley Geotourism MapGuide to learn more about these recreational opportunities other geotourism venues and adventures and find out what makes this region a National Geographic Destination.
The East Tennessee River Valley Geotourism MapGuide, a partnership in sustainable travel and tourism with National Geographic, is an online planning guide to a region "Where Rivers and Mountains Meet," from the Smoky Mountains through Knoxville, Chattanooga and North Georgia. The MapGuide is a program coordinated by the Southeast Watershed Forum, a nonprofit organization helping communities protect and enhance their land and water resources.