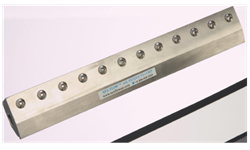 Toronto, Ontario (PRWEB) October 07, 2013
Nex Flow™ Stainless Steel X-Stream™ Air Blade™ Air Knives reduce compressed air and replace drilled pipe or rows of nozzles and jets. Savings in compressed air can be up to 90%. Exhaust noise is only 69 dBA at 80 PSIG.
Airflow amplification of approximately 40:1 compared to 3:1 for drilled pipe or open jets and tubes.
Stainless steel versions are now available to 54" length in a single piece. Different lengths may be connected together with a stainless steel coupling kit for longer lengths.
Low cost compared to most competitive models yet of the highest quality in manufacture, appearance and performance. Air inlet ports on the back for a compact design and minimal air interference. Instant on-off with no moving parts, no electricity or explosion hazard. Easy to fit in small spaces. Maintenance free with output easily controlled, safe to use.
Typical applications replace drilled pipe, or rows of nozzles used for blow-off, cleaning, drying or cooling