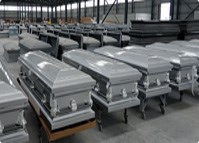 (PRWEB) October 11, 2013
As we all know, the casket is someone's final resting place; it is necessary to choose a perfect one. Now, MillionaireCasket, a renowned casket manufacturer and retailer based in China, is launching a big promotion of oak caskets. You can just order online in the comfort of your own home. All oak caskets are available with discounts from 10% to 70% off.
Along with oak caskets, MillionaireCasket offers wood caskets, metal caskets, cremation caskets, orthodox caskets, rental caskets, veneer caskets and other useful funeral products. They provide high quality products only. The company has its own manufacturing facility loaded with advanced machinery. It has a team of skilled craftsmen. Every product is acutely checked. All its products are at affordable prices.
"We are very excited to launch the big promotion of new oak caskets to all old and new clients worldwide. We offer over 100 designs for our clients. What's more, the caskets can be ordered online. It is very convenient. All our products go through a strict quality control process. You don't have to worry. Visit our website to make full use of our new product launch discount offer," Neil, marketing manager of the company said.
The new oak caskets are available in a variety of sizes, ranging from extra large caskets to child coffins. They are as good as other products introduced by MillionaireCasket before. The company applies a strict quality policy to ensure high quality.
About MillionaireCasket.com
MillionaireCasket.com is a leading casket company based in China. It focuses on the business of casket wholesale. It offers an exquisitely crafted line of all kinds of metal caskets, solid wood caskets, veneer caskets, cremation caskets, rental caskets, orthodox caskets, infant or over-sized caskets and European style coffins.
Visit http://www.millionairecasket.com/ for more details.