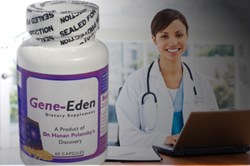 When someone is under a lot of long-term stress, their immune system is harmed, and the herpes virus takes advantage of that weakness. When that happens the latent herpes virus can reactivate, and a person experiences an outbreak. – Mike Evans, polyDNA
Rochester, NY (PRWEB) October 08, 2013
Can stress cause a herpes outbreak? polyDNA found that in its September 2013 survey, many people asked this question. As a service to its customers, polyDNA published a new page on herpes and stress on its website.
That page includes the following information:
One way that stress can cause a herpes outbreak is indirectly. Stress harms the immune system. When the immune system is weak, the latent herpes virus can reactivate, causing a painful outbreak. A study published in 2012 in the Journal of Experimental Biology said that "stress, particularly elevation of stress hormones (i.e. glucocorticoids), tends to suppress immune functions (1)."
Stress harms the immune system by causing the immune system to use different kinds of immune cells. TheVisualMD.com says that "Researchers believe that chronic stress shifts the immune response by changing the 'recipe' for the kinds of immune cells produced. Acute stress, or brief episodes of stress that are resolved after a relatively short time and do not persist, are not associated with this change in immunity. It's the slow wear of chronic stress… that causes the shift in immune cell production (2)."
When this weakening of the immune system occurs, an individual can experience a herpes virus reactivation, which causes a herpes outbreak. As researchers from Brown University wrote, "experts agree that the most likely cause (of herpes reactivation) is physical or emotional stress, which contributes to the weakening of the immune system (3)."
"Basically, when someone is under a lot of long-term stress, their immune system is harmed, and the herpes virus takes advantage of that weakness. When that happens the latent herpes virus can reactivate, and a person experiences an outbreak." – Mike Evans, polyDNA
polyDNA recommends Gene-Eden-VIR to those who wish to strengthen their immune systems and help the immune system target the latent herpes virus. A recent post marketing clinical study published in the peer reviewed, medical journal Pharmacology & Pharmacy, in a special edition on Advances in Antiviral Drugs on August 12, 2013 showed that Gene-Eden-VIR is safe and effective (4). Additionally, up to 70% of those studied reported a decrease in viral symptoms, and users experienced an increase in overall health (4).
Each ingredient of Gene-Eden-VIR was chosen through a scientific approach. Scientists scanned thousands of scientific and medical papers published in various medical and scientific journals around the world to identify the safest, most effective natural ingredients that target the latent form of herpes. (4)
To learn more about Gene-Eden-VIR and herpes, visit http://www.gene-eden-kill-virus.com/Herpes-Remedy.php. All orders of Gene-Eden-VIR are completely confidential, and no information is shared or sold to any third party. Privacy is assured.
Reference:
(1)http://jeb.biologists.org/content/215/23/4097.long
(2)http://www.thevisualmd.com/health_centers/wellness/manage_your_stress/stress_harms_the_immune_system
(3)http://brown.edu/Student_Services/Health_Services/Health_Education/common_college_health_issues/shingles.php
(4)http://www.scirp.org/journal/PaperInformation.aspx?PaperID=36101
polyDNA is a biotechnology company that develops dietary supplements using the unique scientific method developed by Dr. Hanan Polansky, which is based on Computer Intuition.
In addition to his unique scientific method, Dr. Polansky published the highly acclaimed scientific discovery, called Microcompetition with Foreign DNA. The discovery explains how foreign DNA fragments, and specifically, DNA of latent viruses, cause most major diseases.
polyDNA developed Gene-Eden-VIR , an antiviral natural remedy that helps the immune system kill latent viruses.