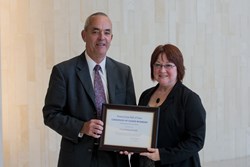 [Susquehanna Health] exhibits a commitment to its older workers that merits recognition.
Williamsport, PA (PRWEB) October 07, 2013
Susquehanna Health (SH) recently received a nomination for the 2014 Pennsylvania Hall of Fame of Champions of Older Workers from the Pennsylvania Department of Aging.
SH received its nomination for the award from Garth Everett, PA State Representative, 84th Legislative District, and was presented with the nomination certificate by Representative Everett Thursday, September 26.
Nominations are presented by General Assembly members to organizations during National Employ Older Workers Week, September 22-28.
SH qualified for the nomination by meeting and exceeding the state's criteria for employers that promote, retain and recruit older workers. More than 1,000 of the nearly 4,000 hospital system employees are over the age of 55 and qualify as state recognized older workers.
"Older employees are the backbone of an experienced workforce," said Don Wilver, Director of Human Resources at Susquehanna Health. "These individuals help connect us to our traditions and serve as resources for an important knowledge base that comes through life experience. Older workers truly are crucial to providing an exceptional level of care through patient services."
"I support the nomination of Susquehanna Health," said Representative Everett. "The system exhibits a commitment to its older workers that merits recognition. These older employees make up a large part of the system's workforce and help provide necessary services to the communities they serve."
By receiving a nomination, SH is now eligible for admittance to the PA Hall of Fame of Champions for Older Workers. The nomination will be reviewed by the Hall of Fame of Champions of Older Workers Committee who will choose one nominee to receive the statewide recognition and enter the Hall of Fame.
For more information, visit http://www.aging.state.pa.us.
About Susquehanna Health
Susquehanna Health is a four-hospital integrated health system including Divine Providence Hospital, Muncy Valley Hospital, Soldiers + Sailors Memorial Hospital and Williamsport Regional Medical Center located in northcentral Pennsylvania. Serving patients from an 11-county region, Susquehanna Health is a healthcare leader and has been recognized at the national and state levels for quality of care. Susquehanna Health offers a wide array of services that include cancer care, heart and vascular care/heart surgery, neurosciences including neurosurgery, orthopedics, urology, OB/GYN, gastrointestinal services, behavioral health, physical rehabilitation, home care, long term care, assisted living and paramedic/ambulance services.