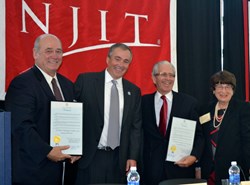 "We collectively" need to continue to raise the awareness of the numerous opportunities in this industry and change the public's perception of manufacturing.
Newark, NJ (PRWEB) October 07, 2013
Commissioner Wirths kicked off ManufactureNJ Week at NJIT stating that the 243,000 jobs created through manufacturing confirms the value of this industry to the Garden State. He added that "we collectively" need to continue to raise the awareness of the numerous opportunities in this industry and change the public's perception of manufacturing. Today's 17,000 New Jersey manufacturers are technology driven and meet the needs of niche markets ranging from hat makers to medical devices.
Commissioner Wirths also presented to NJIT President Joel S. Bloom, and to the principals of ManufactureNJ Talent Network Gale Tenen Spak and Ray Vaccari, a proclamation from Governor Chris Christie declaring October 7-11, 2013 as ManufactureNJ Week that stated advanced manufacturing is one of the seven priority industry clusters in the state.
President Bloom added, "Manufacturing is in the DNA of our university and we are committed to collaborate with all those involved to grow and raise the visibility of this key industry. With the support of the New Jersey Department of Labor and Workforce Development, NJIT is leading the Advanced Manufacturing Talent Network and helping New Jersey companies find the employees needed to meet current demand and to continue to grow their businesses."
The Manufacture New Jersey Road Show Video debuted as well. This video is targeted to middle school students and explains the career possibilities in manufacturing. Moreover, the kickoff event begins a series of round-table talks, tours, and demonstrations to be held around the state beginning on Monday, October 7. For a complete list of the week-long events, click here.
The featured panelist discussion focused on the state of advanced manufacturing in NJ. These industry leaders discussed the needs of NJ manufacturers; the current skill set required for employment; the progress made in training individuals for careers in manufacturing; and the access/availability of education for this sector.
The panelists include:

Dr. Donald H. Sebastian, NJIT Senior Vice President of Research & Development (Moderator)
Michele E. Boronkas, Executive Director, NJ State Employment & Training Commission
Dr. David Cohen, Founder & Chief Science Officer, Cherry Med Inc.
Cheryl O'Connor, Executive Director, LibraryLink NJ
Michael Powell, Executive Director, Passaic County Community College & Prime Contact, U.S. Department of Labor TAACCCT Grant
Dr. Gale Tenen Spak, NJIT Associate Vice President for Continuing & Distance Education
Melanie L. Willoughby, Senior Vice President, NJBIA
In 2012, manufacturing in New Jersey accounted for more than 243,000 jobs and contributed over $38 billion to New Jersey's gross domestic product. Advanced manufacturing is one of seven priority clusters in the state and more than 132,600 people were employed in this industry sector, representing approximately 54 percent of all manufacturing jobs and paying a total of more than $12.2 billion in wages (roughly 6.6 percent of the total state wages).
Manufacturing is one of the seven New Jersey Talent Networks, each focusing on the specific needs of an industry, including: financial services; healthcare; transportation, logistics and distribution; life sciences; hospitality and retail; and technology and entrepreneurship. The purpose of the NJ Talent Networks is to connect employers, job seekers, the state's One Stop Career Centers, and educational institutions to achieve the common goal of helping currently underemployed or unemployed workers develop relevant skills that lead to job opportunities as well as helping employers find qualified employees to fill available positions now and in the future.
About NJIT
NJIT, New Jersey's science and technology university, enrolls more than 10,000 students pursuing bachelor's, master's and doctoral degrees in 120 programs. The university consists of six colleges: Newark College of Engineering, College of Architecture and Design, College of Science and Liberal Arts, School of Management, College of Computing Sciences and Albert Dorman Honors College. U.S. News & World Report's 2011 Annual Guide to America's Best Colleges ranked NJIT in the top tier of national research universities. NJIT is internationally recognized for being at the edge in knowledge in architecture, applied mathematics, wireless communications and networking, solar physics, advanced engineered particulate materials, nanotechnology, neural engineering and e-learning. Many courses and certificate programs, as well as graduate degrees, are available online through the Division of Continuing Professional Education.